Welcome to Kaulbach Family Funeral Home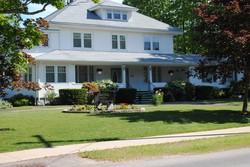 Welcome to Kaulbach Family Funeral Home website. Through our website you will have the opportunity to sign our current guestbooks, send condolences to families we are serving, place a memorial donation or visit one of the many resource sites available to assist you and your family in time of need.
It has been my privilege to serve families in the Bridgetown and Annapolis Royal areas as a licensed funeral director for over eleven years, now operating as an independent and local owner. Our staff are committed to offering professional and caring services to the families we serve with their funeral service choice whether it be traditional, cremation or other alternative services.
I wish to thank all the families we have served over the years as you have placed your trust in us when we have cared for your loved one during your difficult time.
Holly Kaulbach
President
**Attention: Notice to the Public**
We ask if you would not visit us if,
You have recently not been feeling well (Coughing, sneezing, fever)