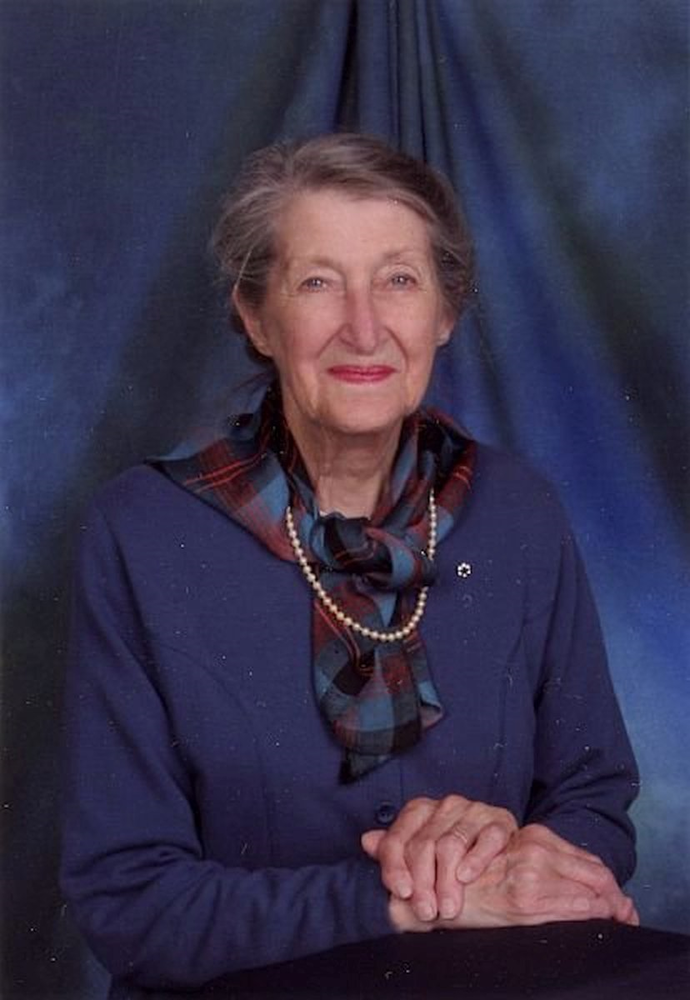 Final Resting Place
South Shore Crematorium
20 Cook Ave
Bridgewater, Nova Scotia, Canada

Get Directions
Obituary of Sylvia Jean Yeoman
Please share a memory of Sylvia to include in a keepsake book for family and friends.
Sylvia Yeoman, CM, FRSA, historian, campaigner for heritage restoration and preservation, Member of the Order of Canada and elected Fellow of the Royal Society of Arts, died peacefully at home in Granville Ferry NS on Thursday, January 25, 2018. She was 91.
Sylvia won several awards for her work, in addition those mentioned above; but when family members were asked for memories, they focused on her kindness, generosity and openness. A family friend summed it up: "No matter their status or station in life, everyone was welcome at her table." Her daughter, Sheila, also wanted her love of animals to be noted.
Sylvia was born on June 27, 1926 on a farm in Hebron NS, where her parents had recently settled after immigrating from Assam, India, via Charmouth, Dorset, England. She was educated at home, at the Miss Whittingtons' Dame School in Charmouth (where her family had returned before finally committing to Canada), and later at Kings-Edgehill School, Mount Allison University, Vesper George School of Art in Boston MA, and the Paris Academy of Fashion in London, England.
She married Mark Yeoman, QC, BA, LLB in 1952. They settled in Dorchester NB at Rocklyn, now a historic site but then a semi-ruin, which they restored. There they brought up their seven children and were very active in heritage and local history as well as supporting local libraries, museums and historical societies. Sylvia was also proud of having been the first woman warden of the Anglican Church in New Brunswick. Mark died in 1989. Sylvia carried on her heritage work and also ran a bed and breakfast in their home until 1997 when she retired to the Annapolis Royal area, where she and Mark had honeymooned. She continued her heritage work in Nova Scotia, where she was on the Board of Directors of the Historical Society of Annapolis Royal.
Sylvia is survived by her children: Elizabeth Yeoman (David Openshaw), Ann Barrett (Dave), Katie Yeoman, Sheila Yeoman, James Yeoman (Ruth) and Edward Yeoman (Marisol); grandchildren: Ilse Jean, Dominique Jean (Amanda), Cimmaron Yeoman, Gabriel Yeoman, Fabien Yeoman, Sebastien Yeoman; great-grandchildren: Markcus Jean-Loescher, Kai Jean and Jasper Jean. She was pre-deceased by her husband Mark, son Alan, parents Sidney Monies and Jean Angus-Monies, sister Elizabeth Monies Ross and brother Robin Monies.
Cremation has taken place under the care and direction of Kaulbach Family Funeral Home, Annapolis Royal. A funeral service will be held 2:00pm, Monday, January 29, 2018, at St. Luke's Anglican Church, Annapolis Royal, with Rev. Juanita Barteaux officiating. Followed by a reception at the church hall. There will also be a service in Dorchester NB on a date to be decided later and she will be buried with Mark in Dorchester. On line condolences may be made by visiting www.kaulbachfamilyfuneralhome.com
Share Your Memory of
Sylvia