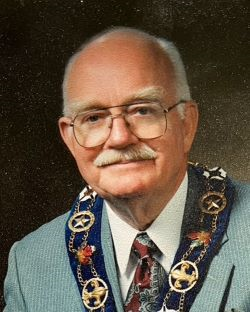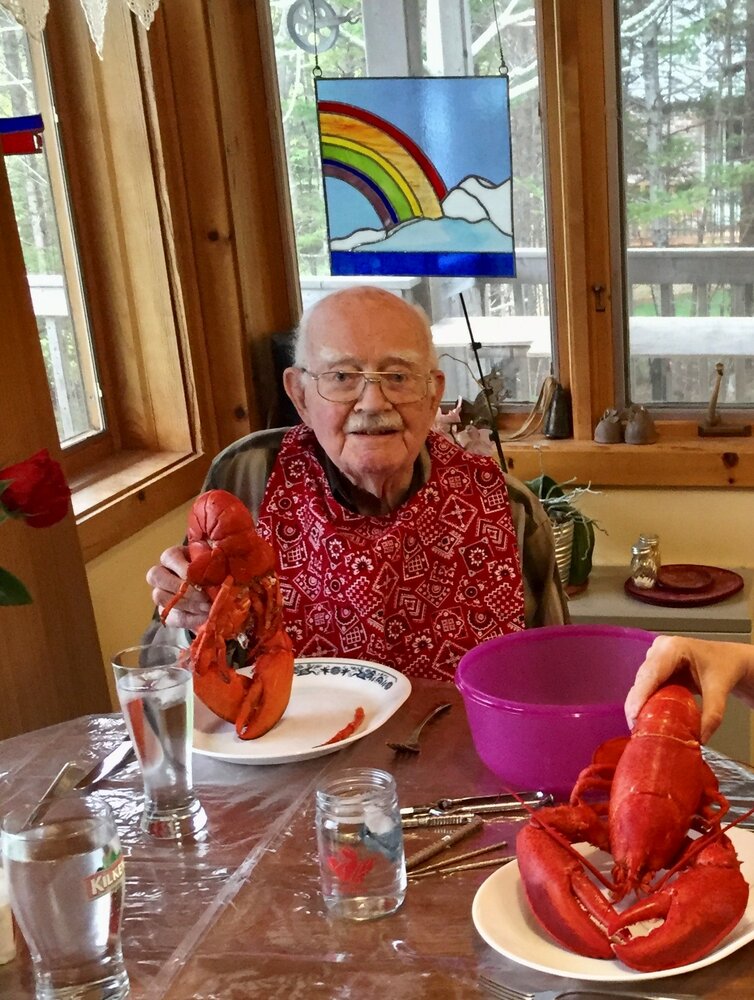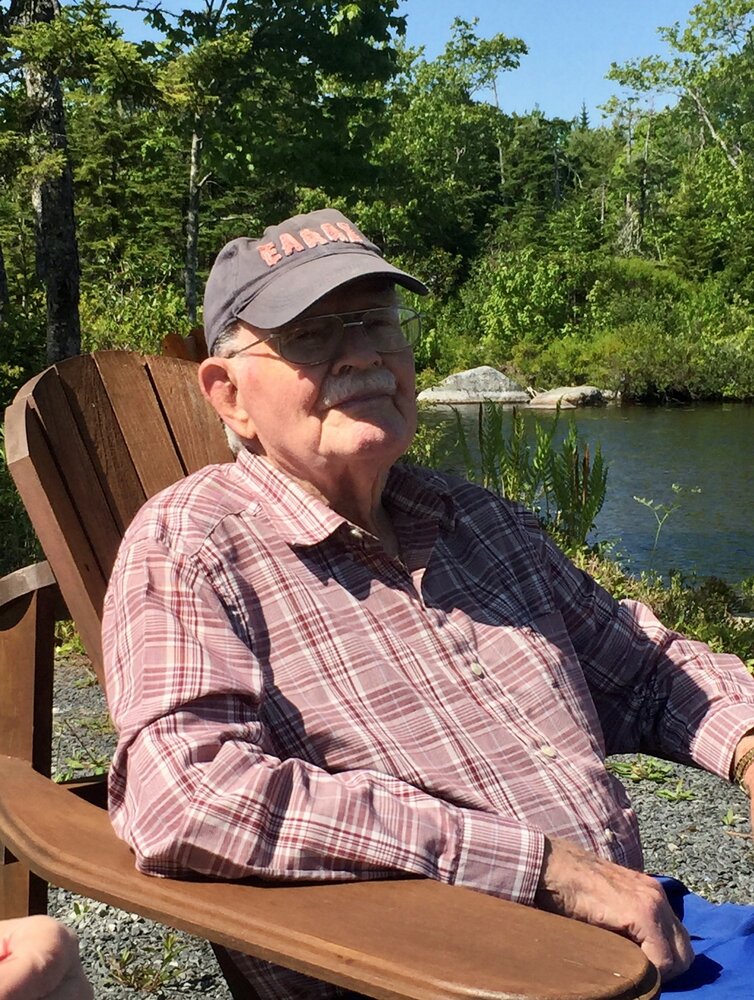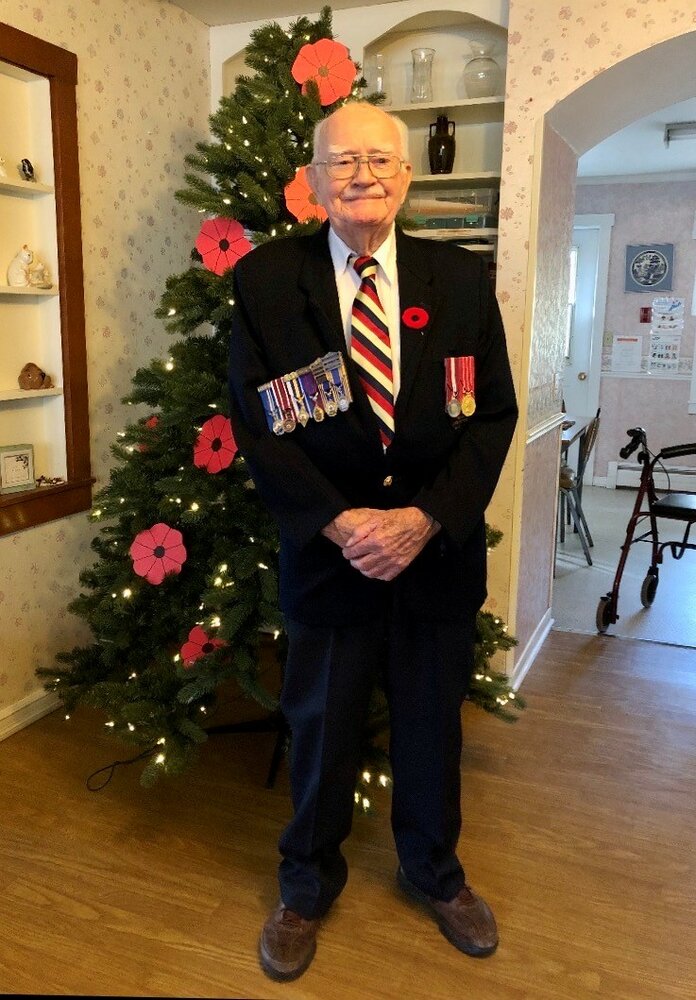 Legion Service
2:00 pm
Saturday, September 9, 2023
Kaulbach Family Funeral Home - Bridgetown
385 Granville Street, PO Box 189
Bridgetown, Nova Scotia, Canada
902-665-4497

Get Directions
Celebration of Life
2:30 pm
Saturday, September 9, 2023
Kaulbach Family Funeral Home - Bridgetown
385 Granville Street, PO Box 189
Bridgetown, Nova Scotia, Canada
902-665-4497

Get Directions
Obituary of William Covell Goodwin
Please share a memory of William to include in a keepsake book for family and friends.
William (Bill) Covell Goodwin
Bill passed away peacefully on July 11, 2023, at Grace Haven (Bridgetown), at the age of 94. Bill was born in Upper Granville, Nova Scotia to the late Rena (MacDonald) and Ray Goodwin. He was predeceased by his two younger brothers, Gib and Rod, as well as his sister-in-law, May. He is survived by his loving younger brother, Jim; his devoted and beloved girlfriend of 45 years, Eileen Spicer; his cherished nieces and nephews, Susan (Ken) Osbourne, Gary (Elaine Rogers) Goodwin, Sandy (Donna Kenney) Goodwin, Terry (Pam) Goodwin, Margie (Bob) Graff, Barb (John) Stewart, and Becky (George) Schweizer; dear sisters-in-law, Audrie and Betty, and his extended family, of which he was so very proud.
Bill was a Lieutenant-Colonel in the West Nova Scotia Regiment and worked as the Pay and Benefits Clerk with the Civilian Personnel Office at 14 Wing, Greenwood Airforce Base for over 30 years. His life of service to Canada's military reserves began in his teens as he joined the cadets in high school, working and training to move through the ranks. He rose to the position of Lieutenant-Colonel and served as the Commanding Officer of the West Novas from 1972 to 1974. This commitment to duty continued throughout his career and into his retirement as he took on various leadership roles within the Royal Canadian Legion, Branch 33 in Bridgetown, where he served in different terms as secretary-treasurer and vice-president. Bill proudly wore his medals and awards for his military service and ongoing service to the Royal Canadian Legion (RCL) and the community. In addition to the Service Medal honouring his time in the militia, and those highlighting the many leadership roles he took on with the Legion, he wore medals to commemorate the 25th, 75th and 150th anniversaries of the RCL. Along with earning his place as a Lifetime member, he also recently received the medal for his 50 years as a Legion member.
Bill and his family were very proud for him to be recognized with the Queen's Diamond Jubilee Award in 2012, and again in 2022 with the Queen's Platinum Jubilee Award for making a significant contribution to his national, provincial and local community through his lifelong commitment to volunteering. His efforts to help were tireless, both in official capacities as well as when anyone was in need. Many a person from the Annapolis Valley got to the Halifax airport or to a hospital appointment, with plenty of time to spare, because of Bill's drives. New Year's Levees were a highlight at the beginning of each year and Bill loved to help organize and greet the many guests at this annual event. He served as the secretary of the Bridgetown and Area Historical Society, lent his beautiful bass voice to the Bridgetown United Church Choir for over 60 years, and gave blood more than 50 times through the Red Cross. He was a member of The Order of Good Cheer, Regimental Memory Club, and The West Nova Regimental Association. In every aspect of his life, Bill showed us all what it meant to be a community leader and someone on whom his community could depend.
A presence in any room he entered, Bill was always well dressed, spoke in a booming voice, and had a story for every occasion. He had the uncanny ability to trace the Goodwin lineage no matter how distant the relation. His genuine interest in everyone he met and his care for his family and community shone through in everything he did. Bill's thoughts were always for those around him, how he could make things easier and show appreciation for those who cared for him. He was a man of strong faith and convictions, choosing to demonstrate both through actions and service.
The family would like to extend its heartfelt thanks to Fred Boyd, president of the Royal Canadian Legion Branch 33, for his long-standing friendship and steadfast support that meant so much to Bill and the whole family; Rev. Don MacPherson, minister at Bridgetown United Church for his friendship and guidance over the past few years; Dr. Amanda Smith for her advice, support and care for Bill. Special thanks go to Lynn Longmire and the many wonderful staff at Grace Haven who supported Bill and his family, going above and beyond to fill Bill's life with care, dignity and compassion through the final years of his journey.
Arrangements have been entrusted to Kaulbach Family Funeral Home, Bridgetown. Celebration of Life will take place Sept 9, 2023 at Kaulbach Family Funeral Home. A Legion ceremony will begin at 2:00 following with a Celebration of Life at 2:30. Internment will take place immediately after the service at Wadeville Cemetery, Granville Centre. In lieu of flowers, those wishing to honour Bill are invited to consider making a donation to Bridgetown United Church, The Royal Canadian Legion, Branch 33, or a charity of your choice.
Share Your Memory of
William