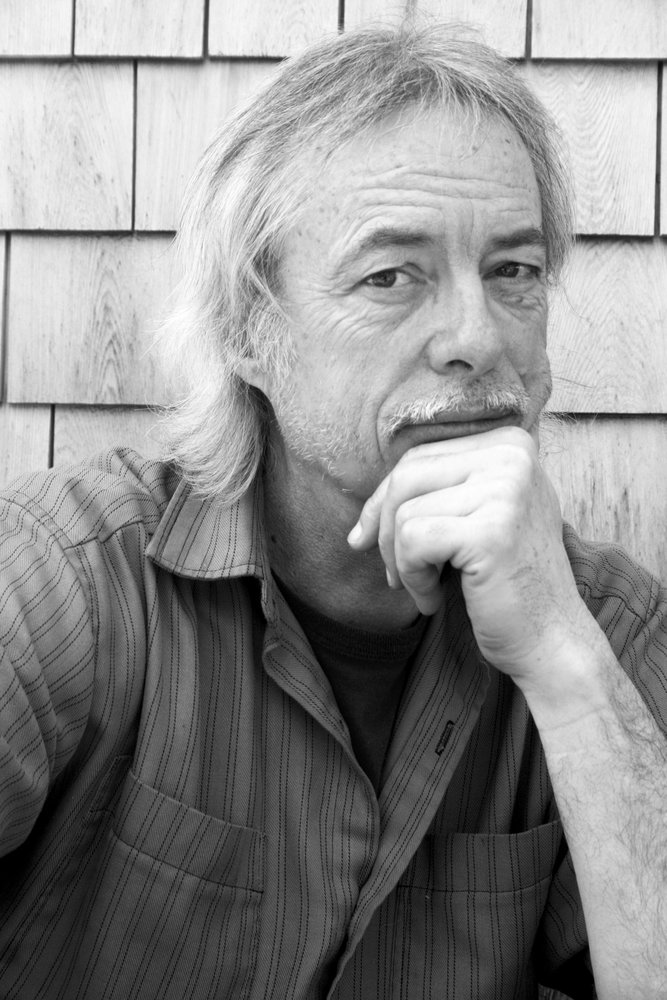 Obituary of Richard John Rudnicki
Richard Rudnicki, born May 14, 1951 in Yorkton, Saskatchewan. Died November 4, 2019, suddenly, in Port Royal, Nova Scotia.
Richard was an award-winning artist, a devoted, generous and unwaveringly loyal son, brother, husband, father, grandfather and friend, and a passionate advocate for the arts, the environment and social justice.
He grew up in a close family in Ottawa, the beloved first-born of Walter and Simone Rudnicki. Educated in commercial and fine art, he began his graphic design career in Ottawa with Bonanza Press and worked as a graphic artist with CUSO before moving to Lawrencetown, Nova Scotia with his first wife, Roberta Beaver, where he built a successful design company, Rudnicki-Murphy Advertising, while raising two daughters, Tansy and Darielle.
In 1995, Richard sold his company in order to devote himself full time to his passion for visual art. He met fellow artist Susan Tooke in 2004. They immediately fell in love and married in 2008, sharing the same devotion to art, the environment, social justice, love of family and commitment to community. In 2018, Richard and Susan moved to a large, rural property in Port Royal overlooking the Annapolis Valley.
Richard was a brilliant illustrator, and won many awards as an illustrator and writer of children's books. He received The Mayor's Award for Illustration and The Lillian Sheppard Award, and was nominated for The Norma Fleck Award, The Shining Willow Award, and The Golden Oak Award. Fania's Heart received the 2018 Canadian Jewish Literary Award for Children and Youth Fiction, as well as the 2019 Vancouver Children's Round Table Award. His other notable children's books include Viola Desmond Won't be Budged, Tecumseh, Abigail's Wish, and Cyrus Eaton: Champion for Peace. Richard loved working with children and was active in the NS Writers in Schools and Visual Arts Nova Scotia PAINTS programs.
Richard was the artist-in-residence at the Army Museum at the Halifax Citadel. He was commissioned to paint a mural in 2018 commemorating the 75th anniversary of WWII. Richard was also commissioned to depict the first battle of the 85th (Nova Scotia Highlanders) Battalion on Vimy Ridge, and their capturing of hill 145. Richard had a strong interest in history, and at the time of his death, was nearing completion of a graphic novel about the HMCS Sackville. He was looking forward to finishing this project and returning to his first love, painting.
He generously shared his talents and enthusiasm for artistic expression, organizing life drawing sessions and a portrait club in the Halifax area, and again in Port Royal. For 12 years, he did daily memory sketches that captured the ordinary events of everyday life that ranged from poignant to funny, and that revealed his curiosity, humour and heartfelt insight into the human condition. He emailed these sketches to hundreds of appreciative fans who, through them, got to know Richard and his quiet pursuit of the good in all of us. His greatest legacy may be to spur those who have been touched by him to also seek the good in others; to choose happiness, to love more, to be kinder.
Richard was predeceased by his parents, Walter and Simone, and by his infant daughter, Natasha. He is survived by his wife, Susan Tooke, daughters Darielle Rudnicki and Tansy Rudnicki (Christopher Campbell); brothers Michael Rudnicki (Wendy Peterson) and Stephen Rudnicki (Diane Woollard); sisters Denise Rudnicki (Murray Sager), and Elaine Rudnicki (Olivier Nicoleau); nephews Christopher, Jonathan and Isaac Rudnicki, Michael LaPointe, and Alexandre Galmard; nieces Vanessa LaPointe, Elise Galmard, and Claire, Erika and Helen Rudnicki; and grandchildren Anthony, Sophie, Lexie, Jevin, Evelyn, Beckham, and Munroe. He was also much loved by Susan's children, Scott Riker, Amy Morgan Young and Beth Patterson (Jessie Patterson).
Charitable donations may be made in Richard's name to the Sable Island Institute: https://sableislandinstitute.org/product/donate/
To plant a tree in memory of Richard Rudnicki, please visit Tribute Store
Services for Richard Rudnicki
There are no events scheduled. You can still show your support by planting a tree in memory of Richard Rudnicki.
Visit the Tribute Store
Share Your Memory of
Richard