Recommend Margaret 's obituary to your friends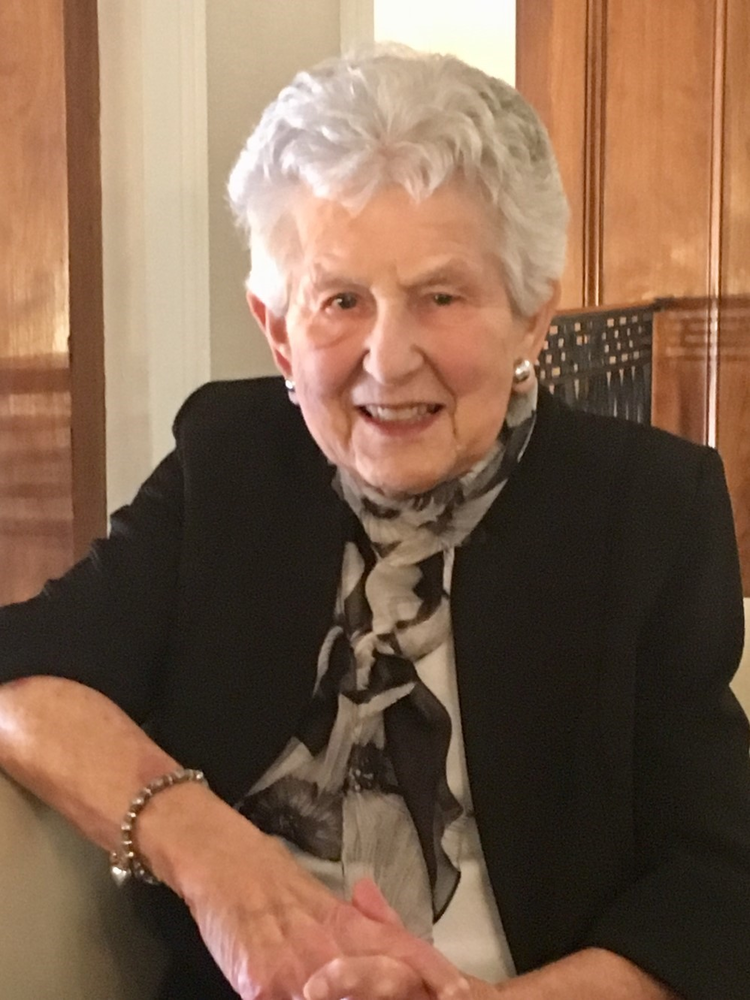 Obituary of Margaret Ethelyn Armstrong
Margaret (Peggy) Armstrong
1929-2019
Playwright, historian, author, and teacher Margaret (Peggy) Armstrong of Granville Beach has died at the age of 90.
Always with a flair for the dramatic, she was born to Jordan and Evelyn Hatt in Weymouth, NS on May 3, 1929, five months before the Stock Market Crash of October 1929. Peggy attended a one-room school and was a member of the Church of Christ. Community-minded from a young age, she sold War Bonds to help the overseas effort during World War II.
As a young adult, she enrolled in King's College in Halifax and later at Acadia University where she obtained her BEd. and forged life-long relationships. She then became a teacher in Annapolis Royal where she met David Armstrong. They married in 1952 and settled in Granville Beach where they raised four children. In addition to her roles as wife and mother, she pursued her love of writing by sitting behind her Remington manual typewriter, often composing her short stories and plays late into the night. She was a prolific playwright with many of her pieces performed locally. She was awarded an honourable mention in the national Women Write for Theatre contest and went on to see Undercover published by the Toronto Playwrights' Co-op in 1976. The Annapolis District Drama Group restaged this play in April of 2019, an event she was able to attend. In November 2017, the drama group also staged a tribute to her by presenting excerpts from four of her best-loved plays.
She combined her love of history and drama by writing The Landing of the Scots and The Landing of the Loyalists, two ambitious historic productions that involved dozens of local actors and behind-the-scenes organizers. In 2001 she launched her book Age of Sail in Annapolis County 1760-1925 with Marguerite Wagner. Her historic bent continued with the play Forever Marie, produced by King's Theatre in July/August 2004 and October 2005 and a series of historical vignettes for the Port Royal 400th Anniversary Society.
Her community involvement was exceptional. She was an active member of such organizations as Historic Restorations and the drama group. She canvassed for the Heart and Stroke Foundation for over 30 years, did publicity for several community organizations, and wrote newspaper and magazine articles. She was also an avid golfer and was an active member of the local club for more than 50 years. She played competitive badminton and bridge. In later years she enjoyed bowling and found sisterhood in the Red Hat Society. Peggy received many awards for her considerable contributions to the cultural life of the province, culminating in a Queen Elizabeth II Golden Jubilee Medal in 2002. In the spring of this year, she was nominated by the Heritage Society for The Order of Nova Scotia, the province's highest honour.
In 2002, Peggy and David celebrated their 50th wedding anniversary. David died in 2005, and Peggy lived on in their home until a few weeks ago. She leaves behind her children: John (Mary) and Jane (Doug Glenen) of Granville Beach; Laurie (Allan Cooper) of Riverview, NB; and Doug (Sarah) of Kentville, NS. She loved her grandchildren and was a mentor to them: Jordan, Hannah, Lynnea, Matthew, Jeffrey, Adam, Katherine, Thomas, and Rachel. In recent years she received much joy from her great-grandchildren: Alice and Holly, Amelia, and Isla.
Peggy's life will be celebrated Friday, June 21, at 3 p.m. at Kaulbach Family Funeral Home,190 St. Anthony, St. Annapolis Royal Nova Scotia with Pastor Herb Anderson officiating. Visitation will take place starting at 12 p.m. She will be laid to rest next to David in the Stoney Beach Cemetery. Donations can be made to Kings Theatre Society, the Annapolis West Health Foundation, or to the charity of the giver's choice.
Online condolences may be made by visiting www.kaulbachfamilyfuneralhome.com.
To send flowers to the family or plant a tree in memory of Margaret Armstrong, please visit Tribute Store
Visitation at Funeral Home
12:00 pm - 3:00 pm
Friday, June 21, 2019
Kaulbach Family Funeral Home
385 Granville Street
Bridgetown, Nova Scotia, Canada
Celebration of Life
3:00 pm
Friday, June 21, 2019
Kaulbach Family Funeral Home - Annapolis
190 St. Anthony Street
Annapolis Royal, Nova Scotia, Canada
902-532-7555