Recommend Juanita's obituary to your friends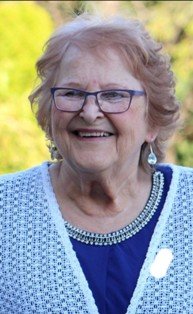 Obituary of Juanita May Hutchins
Juanita May Hutchins(Peck) has passed away peacefully on Tuesday ,May 21, 2019 at the Annapolis Valley Health Centre, with her loving family around her. Mom said she wanted to live to be 80 and she died on her 80th birthday. Mom was a woman of great faith and is now in the presence of her Lord and Saviour. Our mom was born May 21,1939 in Greenland, Annapolis County. She grew up in a loving but poor family of 12 children, they were poor in material things but rich in love .
Our parents met in Digby and she was swept off of her feet by our dad who immediately fell in love with her and within six months were married. They spent most of their life together in Seabrook but also lived in Toronto and for a short time on Long Island. For many years mom was a housewife and mother to the three of us kids and we definitely kept her busy. She was a wonderful mom who showed her love to us every day, from gentle touches to being there whenever we needed her, to hugs and kisses . Our friends received that same kind of love and care. Both of our parents were there for us in every way imaginable. We are so proud that she was our mom!
When we were a bit older she worked at the Fundy restaurant, became a nurses aid and worked at Tideview Terrace before spending many years at CFB Cornwallis.
Mom was proud and excited when each grandchild was born . She often told us she loved them just as much as she loved us! She now has three beautiful great grandchildren and they are every bit as precious to her as the rest of the family. Mom came to know and accepted Jesus as her Saviour, after her own precious mom passed away . Our precious mom, she will be missed more than we can say but we know we will see her someday, as we too have trusted Christ as our Saviour.
She was the daughter of the late Lillian and Orland Peck . She was predeceased by her sisters, Vida Peck and Vileta Hewey; brothers, Vincent, Lewis, Homer, Willard, Carol and Eddie Peck. She leaves behind her grieving family, her husband Buddy (they were married for 63 years). Her children, Darlene (Earle),Rhonda ,Gary (Lynn). Her precious grandchildren, Kelsey (Ryan), Jordan (Heather),Jeff (Angelica),Amanda (Tyler) and Brandon (Kaitlin). Her precious great grandchildren, Noah, Charley and Ayla. Her sisters, Ruby, June (Frank) and Julie. Plus many beloved in laws and nieces and nephews.
Family Flowers Only and donations can be made to the Heart and Stroke Foundation or Diabetes Nova Scotia. We would like to thank the most wonderful nurses at the Annapolis Health Center who provided not only the best physical care but such amazing compassion! We will never forget your kindness!
There will be a service of remembrance on Sunday ,May 26th at 2pm at Greenland Bible Chapel, 229 Greenland Road Bear River,N.S.