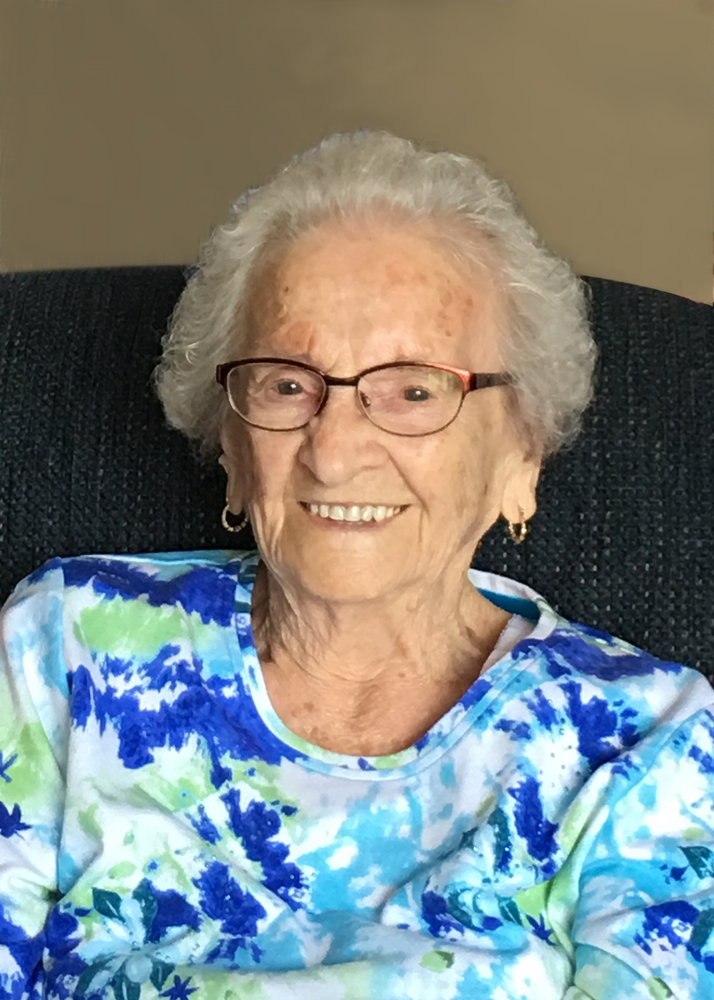 Obituary of Ella Louise Halliday
Halliday, Ella Louise, (Robinson). Aged 100, in Halifax.
Her family is saddened to announce that Ella passed away peacefully on August 26, 2018. Born in 1918 in Litchfield NS as the middle child of 5 girls, Ella married Clifford Halliday in 1936, and began life as a homemaker in Parker's Cove. While her husband was overseas during the war, Ella cared for her first son Daniel. When her husband returned, the family expanded with two more sons, William and Richard, and a daughter Deborah.
The family moved to Port Credit, ON where Ella was a homemaker and then worked at Loblaws which she enjoyed. The family migrated back to NS every summer for holidays and upon retirement in 1976, Ella and Clifford moved back to Parker's Cove for good. Ella became a devoted grandparent to 3 granddaughters, 2 grandsons, and 2 great-granddaughters and 1 great-grandson.
Ella was very active in the Parker's Cove Baptist Church. She was a founding member of The Women's Missionary Society, receiving a pin after 50 years of service. Ella's faith was important part of her life, and a great comfort to her.
After the passing of Clifford in 1984, Ella remained in Parker's Cove with Danny and Betty until 2013, and then moved to Halifax to live with her daughter. With Debbie's devoted care, Ella was able to live at home right up to the end of her life at the age of 100.
Ella's 100th birthday party lasted 3 days, and was attended by many family and friends who came to show their love for this sweet and gentle woman. Ella was remarkable for her positive attitude and gratitude for her relationships with family, friends and caregivers. Her last days came as a result of a broken hip, but this final phase was mercifully short. We will remember her always with love and smiles for everyone who came to see her.
We are thankful for all the love, help and support from her extended family, the kindness and care of the Northwoods home care workers, and the staff at Queen Elizabeth II Hospital.
Predeceased by her husband Clifford, and her sons Danny and Rick, grandson Evan, granddaughter Tonya and four sisters.
A public visitation will be 7-9 pm Tuesday August 28, 2018 from the Kaulbach Family Funeral Home, Annapolis Royal, where a private family funeral service will also be held at a later date. Burial will take place in the Parkers Cove Cemetery, Parker Mountain Road. Online condolences may be sent to www.kaulbachfamilyfuneralhome.com