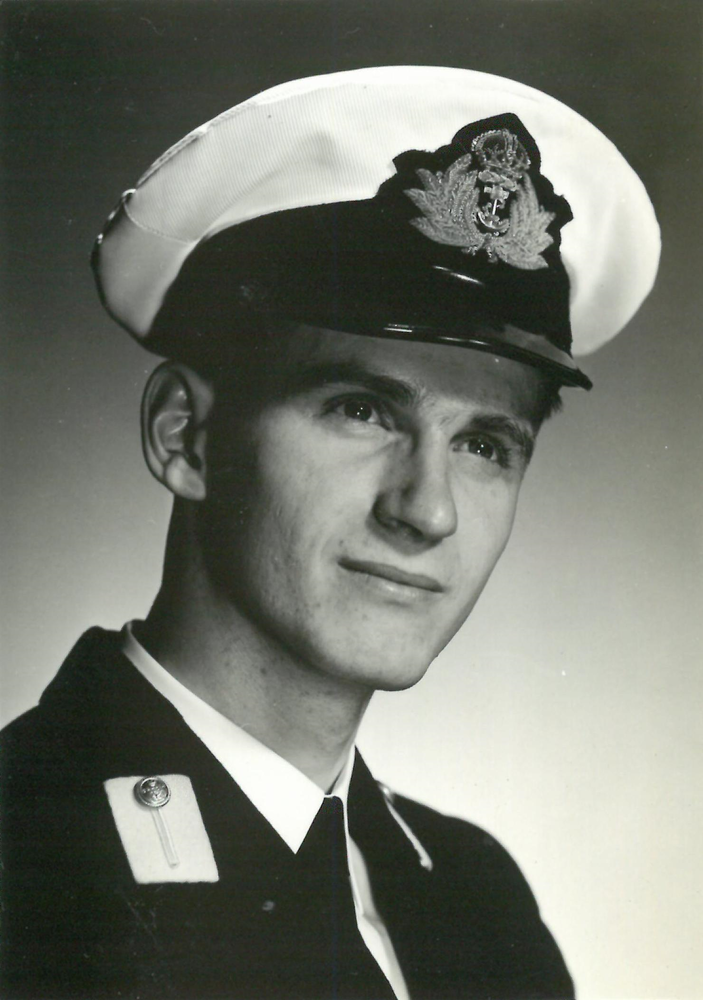 Obituary of John Munro Littlefair
Please share a memory of John to include in a keepsake book for family and friends.
Commander John Munro Littlefair (Retired)
It's with deep sadness that we announce the passing of John Munro Littlefair in the early hours of Sunday August 5, 2018 at the age of 83 in the Annapolis Royal Community Health Centre, where he had been admitted after suffering a heart attack at home. John passed peacefully surrounded by his beloved wife of 55 years, Elcie, his daughter Nadine and his granddaughter Danielle. Born July 22, 1935 in Toronto, ON, the son of the late John Stuart Littlefair and Dorothy Winifred Munro, beloved and cherished husband of 55 years of Elcie (nee Haliburton), he was predeceased by his brother William and survived by his sister Anne. Devoted and much loved father of Sandra Nadine Millet (Edward) and Gregory John Littlefair (Angela). Greatly cherished grandfather of Samantha, Gavin, Clair, Spencer and Danielle. John proudly served his country in the Royal Canadian Navy for 35 years, as a Marine Engineer. His career began at HMCS Venture, Esquimalt, BC where he graduated as a naval engineer from VENTURE, class of 56. He went on to RNEC Manadon College in Plymouth, England, where he sharpened his skills as an engineer. He served on several naval ships, seeing some tense moments during the Cuban missile crisis, and also spent time at National Defence Head Quarters, Ottawa. During the course of his career he attended St Mary's University during a one-year sabbatical and graduated Summa Cum Laude with a Bachelor of Commerce. John was posted to England a few times throughout the course of his career. Besides studying in Plymouth, he also attended the Royal Naval College in Greenwich, England. He and his family particularly enjoyed his last posting to London, England where John served as the Canadian Forces Assistant Naval Attache, at the Canadian High Commission London. At 50 he ran the London Marathon with his son. John finished his career in CFB Esquimalt, and while there earned his parachute wings on the jump course in Edmonton. Both his grandsons have followed in his footsteps and have also received their parachute wings. John retired as Commander, Royal Canadian Navy. In retirement John continued to keep busy, enrolling in various college courses learning everything from woodworking to financial planning. He used his new skills to finish his cottage and build his and Elcie's beautiful oceanfront home. John continued to be fit and active throughout his life and always found interesting activities and events for his kids and grand kids to join him in. He, and the love of his life, Elcie, also enjoyed travelling the world and completed many marvelous adventures and cruises. His family joined them on several memorable trips. Many special family times and fun memories also centered around the family cottage he built. He was also the treasurer of the Good Neighbours Club and an active member in his community. John had a keen mind, and a good sense of humour. Being around him was never boring. His enthusiasm for life and sense of adventure will be sorely missed.
The Funeral is being held at New St Edward's Anglican Church, Highway 1, Clementsport, Saturday August 18, 2018 at 2:00pm with a reception to follow at the Royal Canadian Legion #122 Clementsport. Memorial donations may be made to the Old St Edward's Cemetery Fund or a charity of your choice.