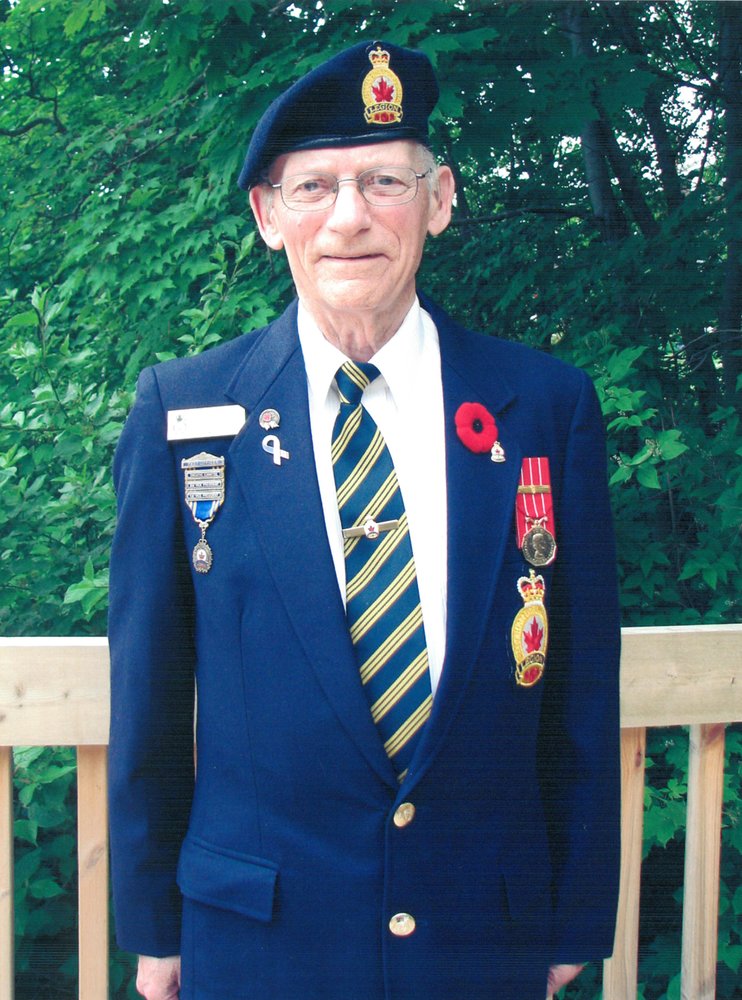 Obituary of Ernest Melbourne Ryan
Please share a memory of Ernest to include in a keepsake book for family and friends.
Ernest Melbourne Ryan CD
It is with great sadness that we announce the passing of Ernest Melbourne Ryan, age 87, of Smiths Cove, on July 3, 2017 in Digby General Hospital. Born in Newcastle, NB, Ernie was the son of the late Allan and Mary Cecilia (Robichaud) Ryan. He was a devoted family man and he will be greatly missed by his beloved wife of 63 years, Rachel (Stephens); daughters, Wendy (Andy) Hamilton, Middleton; Rev. Paula (Rev. Dr. Thomas) Hamilton, Charlottetown, PEI; sons, Mitchell (Cynthia), Enfield, and Jeffrey, Lower Sackville; granddaughters, Rachel and Susanna Hamilton, Charlottetown, PEI; sister, Lillian Estey, Newcastle, NB; sister-in-law Marjorie Dobson, Sackville, NB; also survived by several nieces and nephews as well as step-grandchildren, Megan and Tristan, Maine. He was predeceased by his brothers Raymond and Wilfred, and his sister Agnes.
Upon graduating from Harkins High School in Newcastle, NB, he began a retail career that spanned more than 50 years. He worked with Stedmans Department Stores for 15 years, serving as Assistant Manager and then Manager; then as Manager for Thompson and Sutherland Hardware Stores. In 1968, he purchased Digby Home Furnishings which he owned and operated until 1983. His career continued as a sales representative for Power Up, Great West Life Insurance, and Keltic Savings. During "retirement", he worked for Mailman Publishing.
Ernie served in the Canadian Armed Forces Reserve from 1945 until 1968, and retired with the rank of Captain, having earned a CD and clasp. He served with the North Shore (New Brunswick) Regiment, the Prince Edward Island Regiment; the 8th New Brunswick Hussars, receiving the award for Best Officer Cadet in 1953; the Carleton and York Regiment; the North Nova Scotia Highlanders; and the West Nova Scotia Regiment from which he received a plaque for serving as Regimental Quartermaster from 1960 to 1966.
Ernie was community minded and was an active member of the Digby Kiwanis Club as well as the Digby Board of Trade and served as President of both. He also served on the Mental Health Association; the Navy League of Canada for which he received a merit award for outstanding contribution; the Smiths Cove Fire Commission; and the Royal Canadian Legion, Bear River Branch #22, serving as President as well as in other capacities.
Ernie had a very strong faith and was deeply committed to his church. He served as a Diocesan Lay Reader in the Anglican Church of Canada for over 50 years, served as a Warden, served on various church councils, sang in the choir, and was a Synod delegate on numerous occasions.
In his spare time, Ernie enjoyed curling, golfing, woodworking, camping and barbecuing, and he was an avid reader.
Visitation Thursday, July 6th from 2 pm to 4 pm and 6 pm to 8 pm with a Royal Canadian Legion Service beginning at 6pm at Kaulbach Family Funeral Home in Annapolis Royal. Funeral service Friday July 7th at 11 am St. Edward's Anglican Church, Clementsport. Burial in NB at a later date. Donations may be made to Canadian Diabetes Association; War Amps; or St. Anne's Birch Chapel, Smiths Cove.
Share Your Memory of
Ernest