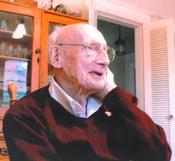 Obituary of Edward Clarke
Please share a memory of Edward to include in a keepsake book for family and friends.
Clarke, Edward Newton (Commodore, R.C.N. Retired) died on April 18, 2011 at his home in Halifax. Born in Vancouver, B.C. in 1914 he was the son of the late Horace and Martha Clarke. A career naval officer, he joined the Royal Canadian Navy as a cadet at age 18 in 1932. After training and specializing in Marine Engineering Ted, better known as "Cookie" in the Navy, he served in ships of the Royal Navy until late 1940 when he returned to the R.C.N. He served in R.C.N. ships, including H.M.C.S Ottawa as Engineer Officer; H.M.C.S Uganda as Senior Engineer; and H.M.C.S Cape Breton, an artificer training ship, as commanding officer He served in a number of shore appointments, including Deputy Engineer-in-Chief at Defense Headquarters in Ottawa; Commodore Superintendent, H.M.C. Dockyard, Halifax; and Command Technical Officer to Flag Officer Atlantic Coast. Retiring in 1967 he ran a small beekeeping business and was active in the community of Round Hill Nova Scotia for many years. He was an active member and former warden of St. Paul's Church in Round Hill, a Trustee of Sackville Naval Memorial Trust and a member of the Naval Officers Association of Canada. He is predeceased by his wife, Mary; survived by his son Roger (Mary) of Toronto; daughter Nancy Pasquet (Robert) of Halifax; six grandchildren; four great grandchildren and brother, Darrell, Vancouver. The family wishes to thank the wonderful care givers who supported him over the past few years including; the "Newfoundland ladies", Lillian and Diane, the Seniors For Seniors organization, especially Howard, Joyce and Kathleen. Special thanks is given to Dr. David Wood for his outstanding care over the past years and the VON Organization for their palliative home care. Also gratefully acknowledged is his good friend Captain Kevin Power for his regular visits which were enjoyed so much. Cremation has taken place. A family memorial service will be held Wednesday April 20, 2011 at the Kaulbach Family Funeral Home, Bridgetown with Rev. Liz Earley officiating Donations may be made to R.C.N. Benevolent Fund, P.O. Box 505, Station B, Ottawa, Ont., K1P 5P6; or the Canadian Naval Memorial Trust; or a charity of choice.
Share Your Memory of
Edward