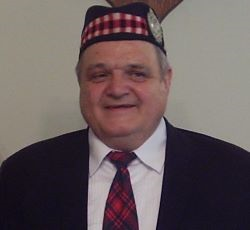 Obituary of Colin Cameron Ferguson
Please share a memory of Colin Cameron to include in a keepsake book for family and friends.
Obituary for Cameron Ferguson
Colin Cameron, (known by all as Cameron) Ferguson, 71, of Cornwallis Park, NS, passed away on May 17, 2023 in Yarmouth Regional Hospital.
A Celebration of Life service for Cameron will be held at Emmanuel Congregational Christian Church in Middleton, NS, on June 16, 2023 at 2:00 pm.
Cameron was born in Gargunnock, Scotland to Colin and Rena Ferguson on April 12, 1952. He came to Toronto, Canada in 1972 and then made his way to the west coast. He worked as an electrician and eventually was employed with the railway. He worked for CN and CP Rail as well as Via Rail. He really enjoyed being a musician. He was gifted with a beautiful voice and he played a number of instruments. When he was young, he learned the bagpipes and never stopped playing them. His passion was singing and playing music for his Lord and Saviour, Jesus Christ. He played bagpipes for many occasions, playing for weddings and funerals, and any occasion that needed a piper. He was happy to do it. He played the pipes for the Remembrance Day services at the Church and on the street in Middleton for outdoor Christmas festivities. He sang and played guitar for Sunday school children and numerous seniors' facilities. He played at Scott Mission in Toronto and sang and gave testimony at the Union Gospel Mission in Winnipeg as well.
Cameron is survived by his wife, Cheryl Ferguson of Cornwallis Park, NS. He is also survived by his children, Scott Ferguson and Shelley Ferguson living in Vancouver, BC, and Bill Bowers and wife, Lindsey Bowers, living in Edmonton, AB. He is also survived by his sister, Carole Ferguson of Oshawa, ON, brother, Angus Ferguson and wife, Marita Ferguson, living in Vasteras, Sweden, and niece, Sharon Penna, of Oshawa, ON, and her children, Michael and Morgan. He is preceded in death by his parents, Colin and Rena Ferguson.
For anyone wishing to make a donation in Cameron's memory, you can donate to the Church he attended to further God's work to Emmanuel Congregational Christian Church at 37 Gates Avenue, PO Box 1559 Middleton, NS B0S 1P0. Phone number: 902-825-1777; etransfer: emmanuelgivings37@gmail.com Donations should state that they are in memory of Cameron Ferguson. The family wishes to extend a special thank you to all the staff that worked with Cameron during his final days at Yarmouth Regional Hospital. They were an amazing and caring team!
Share Your Memory of
Colin Cameron