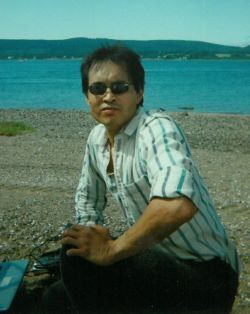 Obituary of Ronald Dwayne Hamilton
Please share a memory of Ronald to include in a keepsake book for family and friends.
Ronald Duane Stone - Ronald Dwayne Hamilton
Ronald passed away unexpectedly at home on February 2, 2023, he was 55. He was born on April 16, 1967 in Sioux Lookout, Ontario and was of the Ojibwe Tribe.
Ron is survived by sister, Sheila Lee; brothers, Raymond and Robert Hamilton; niece, Amanda (Mark); nephews, Adam (Anna), Robert Lee (Kori), Joel and James; great nephews, Ty, Dustin, Jayden and Aiden; great nieces, Hailey, Rhiana and Amelia. He was preceded in death by his parents, Rosalie June and Raymond Bruce Hamilton (Sr) as well as his oldest sister, Melody June Hamilton.
When Ron was younger, it was all about hockey. Dad was always taking him to practices, games and tournaments, wherever they were. Then you would always find them watching Hockey Night in Canada together.
He graduated from AWEC in 1985, received his BSc in Geology at Acadia University. Ron also attended NS Institute of Technology and received his Petroleum Engineering Technology Diploma in 1988. His calling was in the Oil and Gas Field so he headed to Calgary and worked there from 1989 to 2001. Ron decided to come back home and he started working as a Scallop Fisherman with his good friend and Captain, Stephen Kay.
Ron was a very hard worker in life, always going above and beyond what was expected of him. He enjoyed the outdoors and you would see him just about anywhere working with his good buddy Shannon, or for other various people. He was also an excellent cook, his seafood chowder was exceptional.
A memorial service will be held 1pm, February 21, 2023 from the Kaulbach Family Funeral Home, Annapolis Royal.
Ron will be deeply missed by his Family, Friends, and all the people he has met throughout his journey in life. May Your Soul Rest in Peace.
ᑳᔑᓂᓐᔑᔑᒋ"ᔑᒡ ᒦᐊᐃᔦᒡ ᑳᐯᑐ.
Share Your Memory of
Ronald