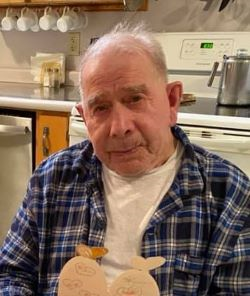 Obituary of Cecil Clayton Brown
Please share a memory of Cecil to include in a keepsake book for family and friends.
Brown, Cecil Clayton, age 98, Bridgetown
Cecil passed away January 12, 2023 surrounded by his care-giving family at Saunders Rest Home, Bridgetown, where he resided for the last 17 years. Prior to becoming a family member and "supervisor" at SRH, he lived with the Marshall family as a farm laborer in Clarence.
Being outdoors was his preference up to his final days, and he insisted on raking the leaves in the yard even in his 98th year in the Autumn of 2022. Much of his time in his younger years was spend happily in the forest, chopping wood, or fishing. Hard work and fresh air gave him muscles into his 80's that would be the envy of much younger folks.
Cecil was also a regular at the Annapolis County Exhibition in Lawrencetown. Every year, he would enjoy the food concessions, where local folks who knew him were happy to pay for his treats. He always somehow managed to come home from the Ex with more money than he had taken with him.
Cecil was a man of few words, but was always watching what was going on around him with a keen eye and a sense of mishief. It was common to see Cecil on a slow plod around Bridgetown, frequently stopping to oversee construction or public works projects. His own passion was his self-created duty of pruning brush on the Harvest Trail between his home and Bridgetown Tim Hortons. As a result, he was well respected in the area, a local character, and will be very much missed.
Funeral arrangements have been made with Kaulbach Family Funeral Home in Bridgetown, and a graveside service will be held at Riverside Cemetery in Bridgetown 11am, Saturday June 3, 2023, Marilyn Kaulbach officiating. Donations in memory of Cecil can be made to the Annapolis Valley Exhibition www.annapolisvalleyexhibition.com , or the Annapolis County Trails Society www.annapoliscountytrailssociety.ca , or the charity of your choice.
Online condolences may be made at www.kaulbachfamilyfuneralhome.com
Share Your Memory of
Cecil