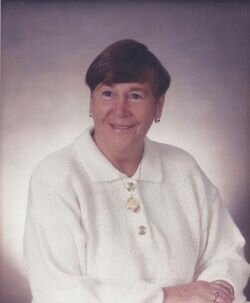 Obituary of Kathleen Isabel Potter
Please share a memory of Kathleen to include in a keepsake book for family and friends.
Kathleen Isabel Potter
Kathy passed away on Thursday, 29 December 2022 at the Annapolis Royal Nursing Home.
Born in Digby, Nova Scotia in 1938 as the oldest of four siblings Kathy grew up in Clementsport attending school at the Annapolis Royal Academy. She graduated from Nursing school in 1958 and in January 1959 she accepted a position with the Department of Veterans Affairs in Winnipeg, Manitoba where she was employed until her retirement in 1994.
While in Winnipeg, she joined the Royal Canadian Army (Militia) Medical Corps from 1959-1964. Kathy was a Steward for 8 years with the Hospital Union of the Public Service of Canada and fought for justice in the workplace. She was responsible for submitting a claim to the Canadian Human Rights Commission which resulted in a classification change and a substantial pay revision for Federal Nurses across Canada and the Northwest Territories. She played on the Hospital bowling and curling teams and was a member of Saint Edward's Catholic Church, the Catholic Women's League (CWL), and helped to care for refugees when they came to Canada. She also worked in the church kitchen serving the poor and homeless. She was a member of St. Mary's Catholic Choir in Winnipeg. Kathy also belonged to the Winnipeg Flying Club and earned her pilots license to fly the Cessna 172.
Moving back to Clementsport in 1994, Kathy joined the Clementsport Garden Club, was President of the Deep Brook Neighbourly Club and attended St. Louis Church in Annapolis Royal. She was a member of the church choir, the CWL as well as the Annapolis Basin Choir, and sang with a small group of friends called the Joy Tones. Kathy moved to St. Patrick Catholic Church, Digby where she made her Cursillo, became a choir member and worked as a group leader working with the youth of the parish. She was a volunteer VON and a member of MADD Canada.
Kathy enjoyed the mountains and travelled there many times to camp during summer and as well skiing during the winter at Banff and Lake Louise. She enjoyed gardening, photography, an avid nature lover and she loved to travel. Kathy had a special relationship with her sister Wendy and they shared many great memories, private jokes, and there was laughter anytime they were together.
Kathy was predeceased by her parents and leaves to mourn her sisters Wendy (Ray) Dempsey of Clementsport and Lois (Allen) Grant Ottawa, her two brothers Raymond in Winnipeg and Winston in Clementsport, five nephews, Sean, Scott, Brent, Evan, Anthony, one niece Stephanie, plus grandnieces Kaitlyn, Megan, Shayanne, Drew, and grandnephews Riley and Alec.
The Potter/Dempsey/Grant families extend special thanks to the wonderful caretakers at the Annapolis Royal Nursing Home. Special thanks to Dr. Buchholz. Donations in Kathy's honour can be made to the Heart and Stroke Foundation. A family graveside service will be held at a future date.
Share Your Memory of
Kathleen