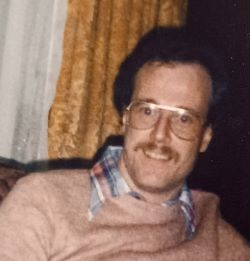 Obituary of Robert Bruce Robertson
Please share a memory of Robert to include in a keepsake book for family and friends.
Robertson, Robert Bruce (1950-2022)
December 2, 2022
On this day Donald and I unexpectedly lost our brother. Robert follows his sister Susan, with whom he was perhaps the closest growing up in Bridgetown. He was the son of Robert Malcolm Robertson and Helena Islip, who brought Robert, his siblings and maternal grandmother Katherine Markey from England, following the emigration of our grandfather Robert Phakney Robertson and grandmother Nell Bennion to Canada.
Robert became an avid cyclist and was often seen on some section of the Harvest Trail. In fact, Robert spent the last two decades of his life biking to stay fit, often cycling further than 20 kilometers daily. This habit gave him purpose in a life that denied him much, and sustained him, mentally and physically right up until his death. His cycling adventures often rewarded him with wildlife encounters; Robert loved animals and all living nature and would capture any insects that wandered into his home, only to set them free. Robert leaves no legacy, except his tremendous will to survive in a sometimes very lonely world. Possessed with a huge heart, he never stopped trying to help those even less fortunate than himself, often at his own expense, and searching for that one true love.
Robert's loyalty to his family went largely unspoken, even to them, but being able to spend more time with him than the rest of his family: I heard. His pride in his nieces and nephews and their chosen paths in their lives was a quality that he never truly shared with them, but of which I very often heard. He admired his brother Donald and brother-in-law John for their successful careers and spent a good portion of his life doggedly trying to emulate them, and he often spoke of their partners in life being a key to their success. Yet Robert had little attachment to money, once returning hundreds found in a lost bank deposit bag when he himself had nothing. Robert is survived by his brothers Donald and me (Mark) as well as a large extended family. Cremation has taken place under the care and direction of the Kaulbach Family Funeral Home, Bridgetown. A celebration of Robert's life will be held at a later date. On line condolences may be sent at www.kaulbachfamilyfuneralhome.com
"We must each lead a way of life with self-awareness and compassion, to do as much as we can. Then, whatever happens, we will have no regrets." — The Dalai Lama
Share Your Memory of
Robert