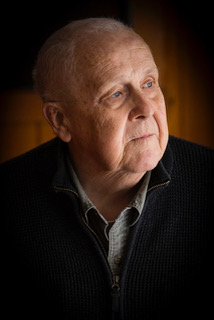 Funeral Service
11:00 am
Tuesday, October 4, 2022
St. Alphonsus Catholic Church
South Street
Bridgetown, Nova Scotia, Canada

Get Directions
Final Resting Place
St. Alphonsus Catholic Cemetery
South Street
Bridgetown, Nova Scotia, Canada

Get Directions
Obituary of Melville Charles Bateman
Please share a memory of Melville to include in a keepsake book for family and friends.
Melville Charles Bateman
(Inspector,Retired RCMP)
December 23, 1935 – September 22, 2022.
Our Dad was an awesome dad. He cared so much for every single member of his family. Everything he did in his life was for his family. It could be said that he died of a broken heart because when our mom died 10 months ago, he lost his will to live. He never recovered from her passing. While this may seem sad, it is quite the opposite because for 60+ years their love endured and we, his beloved children, enjoyed a home with deep love, high expectations and truly fantastic adventures. He always said, "Family is the most important thing!"
Dad was born in London, Ontario, the second child to Harold and Gladys (Rhodes) Bateman. His dad was a police officer first serving with the London Ont Police force and later joining the RCMP in 1928. His father (regimental number 10524) served for 22 years retiring in 1950 as a sergeant,. The family moved around making homes in many places including Ottawa and Hamilton. Dad's early years found him sneaking into the Hamilton Tiger Cats stadium to watch them play and making him a lifetime supporter of the team. He loved the Ti-Cats!!
Dad told great stories of his times with his older sister Joanne and their fun together as they got into trouble cross country skiing across fields on Christmas day and needing to be picked up by their granddad—who was decidedly unimpressed!
After a stint sailing on the Great Lakes, Dad joined the RCMP on July 28, 1954. After basic training in Regina Saskatchewan, he was posted to Halifax NS. While in NS he served at number of locations in the Province. Of course it was while posted to NS he met and married Mona Petrie. He was a member of Security Services Branch in the late 1960's when several events shaped our countries' history. At this time dad was posted to Ottawa. The decision was made to separate the Security Services branch from the RCMP to form CSIS. Dad was a founding member of this new service. He achieved significant professional success and recognition during his tenure. We are very proud of his contributions and would love to share more but that information is "CLASSIFIED". He loved his work and made a true difference for policing and security on a global scale. We are proud of his work. Dad loved the RCMP and was very active with his fellow RCMP veterans. His eldest son (reg # 39111/ O.2326) joined the RCMP and dad was proud to be part of three generations that served Canada .
Aside from his professional success our dad was an accomplished wood worker/furniture builder and a true lover of the arts. He expressed envy for those with what he would say had "true artistic ability" without accepting that he, too, had enormous talent. His wood working pieces are completely amazing. His musical skills were never fully realized but he loved his guitars right to the end. He used to play for us when we were small children, and he would encourage us to sing along and dance which we loved. He had an amazing eye, and he was unfailingly supportive of the arts. He and mom supported local artists in significant ways and have encouraged each of us to follow suit.
Our dad was smart, funny, kind and a completely devoted family man. He held us to the highest standards and, as a result, we achieved our own successes. The best gift Dad gave us was his absolute belief in our abilities and his complete and steadfast love and support. He was not one to suffer fools so if you opened with "I know you will say no…" he'd reply "Don't ask" …. he also LOVED a great joke or story and often we would win him over with some clever tale. He truly loved music, poetry, lyric and fun. He gave the very best hugs on coming home or leaving. We each felt adored. We never ended a conversation without an "I love you"….and now it is on us to set that example.
Our parents were together for over 60 years and during that time they lived in many different places but their favourite and forever home was in Bridgetown, NS. They loved the town and were involved in their community in many ways over their 30 plus years there. Dad was especially fond of going to the 'coffee club' and socializing there.
Our dad is predeceased by his beloved wife, Mona, his parents Harold and Gladys Bateman, his dearly adored sister Joanne, and her husband Bob Porter.
Dad is survived by his children Nancy (John Dyck), Paul (Jenna Poole), Kevin (Diane Mcleod), Patti (Trevor Williams). His eight grandchildren: Shannon (Travis Madaleno), Steven (Mackenzie Sato), Nick (Katelynn Popma), Alex, Alison (Donald Kelly), Melanie, Grace (Zach Yavis), Matthew.
Great-grandchildren, Luca, Mateo, Claire, Elise, Noah
His siblings Jack (Sharon), Sue (Richard Harding) Margaret (Dick Rogers) his favourite cousin Terry Cosgrove. And his nieces and nephews Bobby, Jamie, Dana, Joel and their families, Kyle, Noel, Amy, Wendy, Katie, Ben, Tim, and all their families. Dad asked about and tried to keep track of each of his family members. He cared about them and their paths in life. He was always delighted to have a call or a visit from any of us.
Dad was complicated but clear in what mattered to him. He was incredibly intelligent, very sensitive and had a great sense of humour. He has left a legacy and a mark. We are so grateful. We miss him terribly.
As dad often quoted:
"We make a living by what we get, we make a life by what we give"
Winston Churchill
Dad will be celebrated on Tuesday October 4th at 11 a.m. with Interment to follow at St. Alphonsus Catholic Church in Bridgetown NS. In lieu of flowers donations to the RCMP Veterans Association may be made in dad's memory. On line condolences may be sent at www.kaulbachfamilyfuneralhome.com
Share Your Memory of
Melville