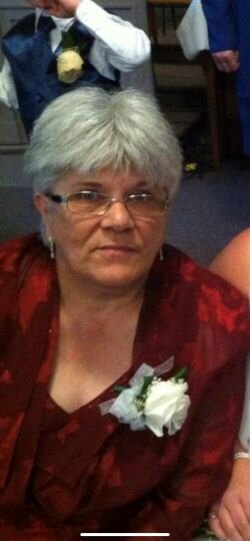 Obituary of Bonnie Rose Mary Halliday
Please share a memory of Bonnie to include in a keepsake book for family and friends.
Bonnie Rose Mary Halliday (Mansfield) aged 64, of Graywood, NS passed peacefully at home on Monday Sept 26, 2022 with her husband by her side.
Born in Val Cartier, Quebec, she was the fifth child of the late Clinton and Emily Mansfield. She spent most of her youth and young adult years in NB. She moved to NS in 1984 where she lived out the rest of her life.
In her early years in NS, she enjoyed going to legion dances. Before their group of friends would head out, the old country music would be blaring on the stereo. BOP was one of her favourites at the time.
When her kids were still young at home, she would rent a Super Nintendo system from the local Foodland, and they would play Mario Brothers long after they should have been in bed.
She also enjoyed playing cards, and it was nothing to have a group of people at her home in Caledonia all hours of the night. She continued to play cards with her husband, right up until she couldn't. She also went through a phase when she couldn't get enough of FarmVille. Her username was Caledonia_Lawbreaker which still makes us giggle. She was probably one of Caledonia's most law ABIDING citizens.
She worked really hard when she could. Including raking blueberries in the summer heat for many years. Her granddaughter Kylie fondly remembers how she'd always pack Grammy Emily's banana bread for her lunch, but always bring it back home for Kylie, because she knew how much she loved it.
She spent her last years working with the residents of Meadowbrook Manor in South Brookfield. She developed special relationships with some of them, and they had nothing but wonderful things to say about her and the care she gave.
She never started her day without a cigarette and a 125 degree coffee that she reheated in the microwave 15 times to ensure that every taste bud was melted off. She spent most of those mornings sitting at the kitchen table with her mother, who she absolutely adored.
She had a bit of a potty mouth and we believe she taught her kids every term she knew. Often, when asked "what's for supper?" She would reply "Sheep Sh$t and vinegar". Which meant, you'll get what you get, and if you don't like it, you can go to a restaurant. But she never actually made any of us eat at a restaurant.
She was undoubtedly one of the strongest & toughest women we knew. She softened over the years, but she always had a fight in her, which was evident in her last years of life. Especially her last few months.
She was predeceased by her brothers Robert and Freeman, sister and best friend Donna and great granddaughter Aleigha.
She is survived by her husband Bob, children / step-children Misty, Tiffany (Justin), Jessica (Eddie), Karol (Bobby), Robert (Katie), Cory (Barb) & Mike (Kendra) Grandchildren / step grandchildren Kylie, Cennie, Hayden, Roman, Damien, Lucas, Tobias, Kaleb, Makai, Tyson, Brody, Shayla, Keisha, Kamryn, Dykohta. Great grandchildren Hunter, Grace, Isabelle and Joshua. As well as brothers Randy (Lorna), Greg (Kathy) and sister Debra (Laurie). As well as several nieces and nephews.
Special thank you to Jill, Kerri, Alice & Pam for always being there when Bob needed a helping hand.
Cremation has taken place under the care and direction of the Kaulbach Family Funeral Home, Annapolis Royal.
A celebration of life will be held at a North Queens Fire Hall in Caledonia, NS on October 25 from 7-9pm.
There will also be an informal burial in Fredericton, NB at the Fredericton Rural Cemetery on October 27 at 10am. She will be placed with her parents. Anyone is welcome. There will be no reception.
Share Your Memory of
Bonnie