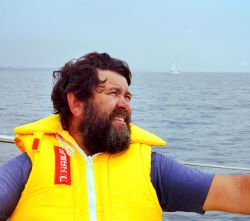 Obituary of David Owen Tinker
Please share a memory of David to include in a keepsake book for family and friends.
Tinker, David Owen, aged 82 years, passed away July 7, 2022 in Valley Regional Hospital, Kentville of stroke and related complications.
Born in Richmond Hill, Ontario on January 25 1940, the eldest child of Patricia and Stanley Tinker, David showed precocious intelligence from an early age. At Richmond Hill High School, where he met Sheila Wilcox and where all 4 of their children would also later attend, he was yearbook editor and valedictorian. David and Sheila recently celebrated their 60th wedding anniversary!
After studies in biochemistry at University of Toronto, and graduate/post-graduate work in Seattle and London - where their first 2 children, Nicholas and (Martin) Timothy were born, respectively - the Tinkers settled back in Ontario where David took up a professorship in the department of medicine at his Alma Mater U of T, and they bought a small house in the rural hamlet of Victoria Square. Here their children grew up and were joined by two more, (Michael) Tobias and Katie, and the couple became active and respected members of a rapidly growing community.
Alongside his career in science, David was an avid sailor, and the young family spent many weekends and summers cruising on Lake Ontario, the Bay of Quinte and the Thousand Islands. Memories of these wonderful adventures are preserved in David's carefully annotated logbooks, full of quirky observations of sailing life and parenthood, as well as countless photographs.
Their small country home was always full of art, literature and music. David claimed to know "the first line of every poem ever written" and his eclectic but always excellent taste in music, along with a voracious appetite for books on nearly every subject imaginable were evidence of his endless and wide-reaching curiosity. David's own experience playing trombone, alongside Sheila's background at the piano and her family's rich painting tradition, meant that music and art were not merely to be appreciated but were an active part of the household and family life.
David was also a prolific and highly creative writer, and after his retirement and relocation to Nova Scotia, maintained a weekly column in a local paper for many years, 'More About This Later', which gave him a forum for musings on politics, nature, and innumerable other subjects, and a venue for an eccentric cast of imaginary characters and places that captured his slightly absurd but affectionate view of country life.
David and Sheila were lifelong churchgoers, and active members of two Anglican congregations: St. Mary's in Richmond Hill and St. Luke's in Annapolis Royal. They sang in the choirs, and David was a lay preacher and sometimes gave sermons that expressed his complex, thoughtful approach to theology and spirituality. He was always ready to engage intellectually on these and many other subjects, and maintained a small group of friends who enjoyed such conversations.
He was also passionate about social justice, and gave generously to social and other charities throughout his life, both as a donor and as a volunteer. He also donated generously to the University of Toronto, which played such a central role in his life, paying forward the immense good fortune of his education and believing that supporting this opportunity for others was crucial to creating and maintaining a society worth living in.
Other avid hobbies included British sports cars (his beloved green MG was a fixture at local rallies and car shows) and flying (mostly virtual; he would often relax with a Flight Simulator journey to places far and wide), but perhaps most importantly, a love of nature and the outdoors. An enthusiastic birdwatcher for most of his life, he was active in the local Christmas bird count for many years.
As a young family the Tinkers were out for walks in the woods as often as they were sailing, and David's knowledge of natural history and the biological sciences was there to support the curiosity of his children, two of whom went on to their own careers in biology. David and Sheila's country home in Granville Ferry included a lovely property with gardens, meadows and views of North Mountain, and a short walk to the dykelands of the Annapolis River.
Anyone who knew David will remember his powerful intellect and vast knowledge, his prodigious and photographic memory, his quirky and eccentric sense of humor, his love of telling stories, his deep sense of community and social responsibility, his dedication to his wife and family (including many beloved dogs and cats through the years), and the profound ways in which he experienced moments of poetry and humanity.
He is survived by Sheila, their four children Nick (Doris), Tim (Julie), Tobias (Athanasia) and Katie, and four grandchildren (Calum, Holly, Alice and Alexis), and by his siblings Delia (Malcolm), Brian (Gill) and Don (Pam).
The family would like to express our deep gratitude for the wonderful care provided to David at Valley Regional Hospital, Kentville. A memorial service will be held 11:00 a.m. August 20, 2022 at St. Luke's Anglican Church, Annapolis Royal with Rev. Juanita Barteaux officiating. Interment will be in Stoney Beach Cemetery.