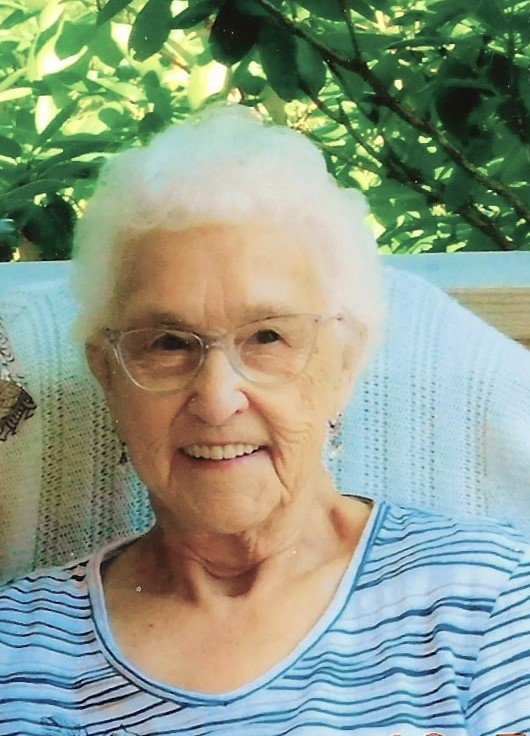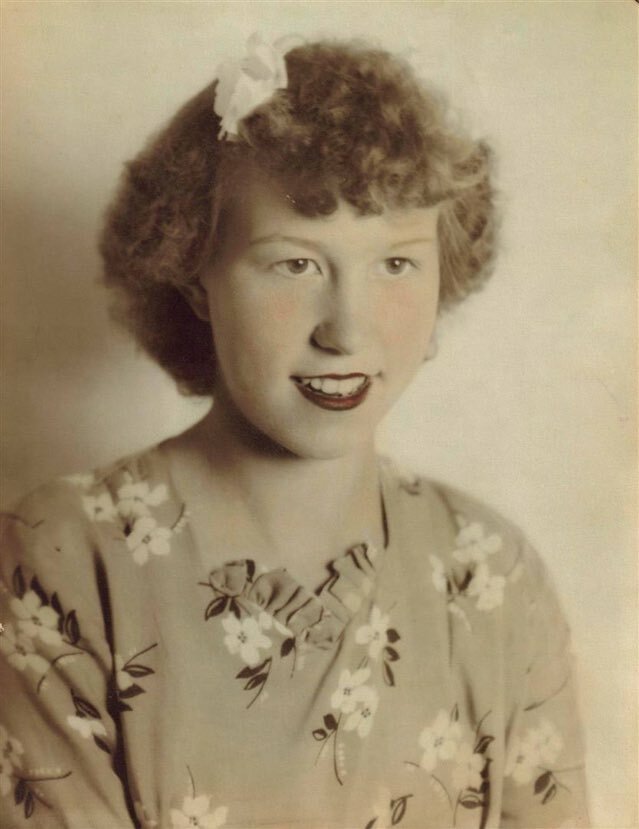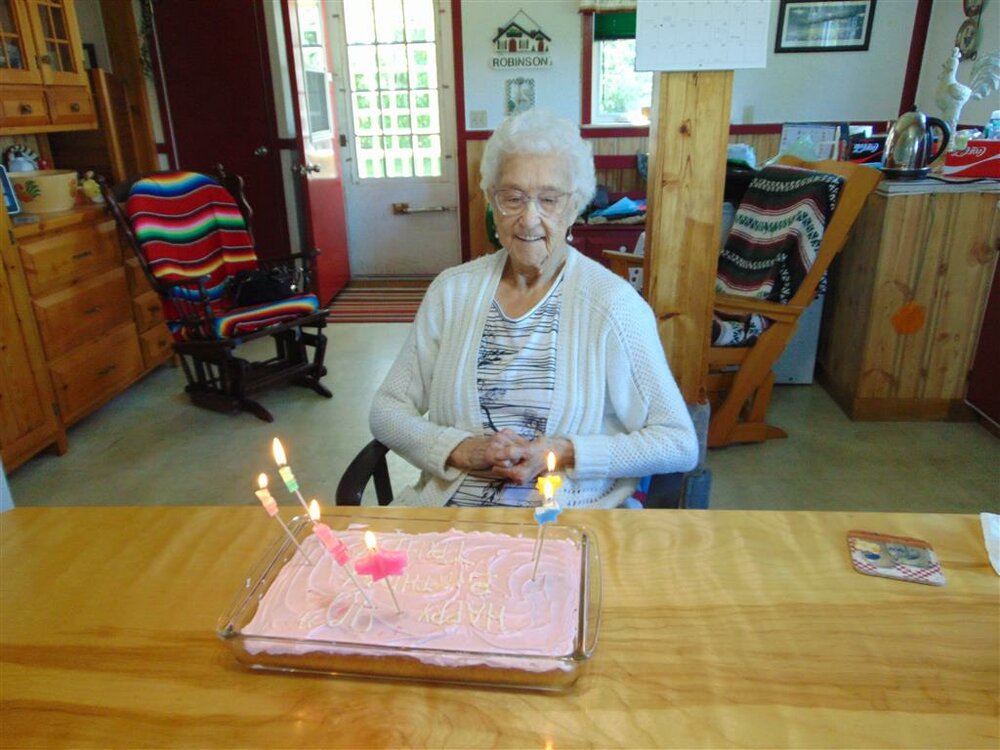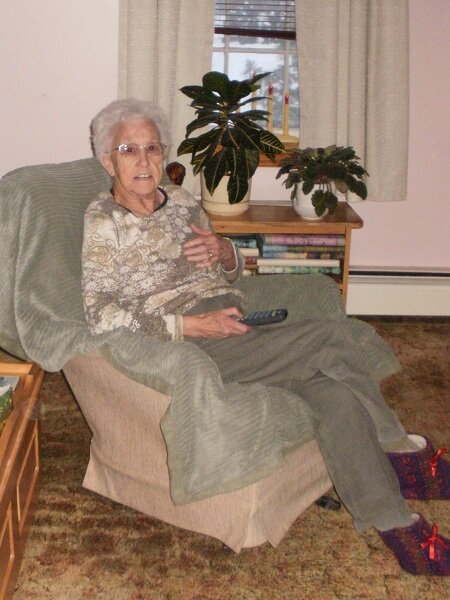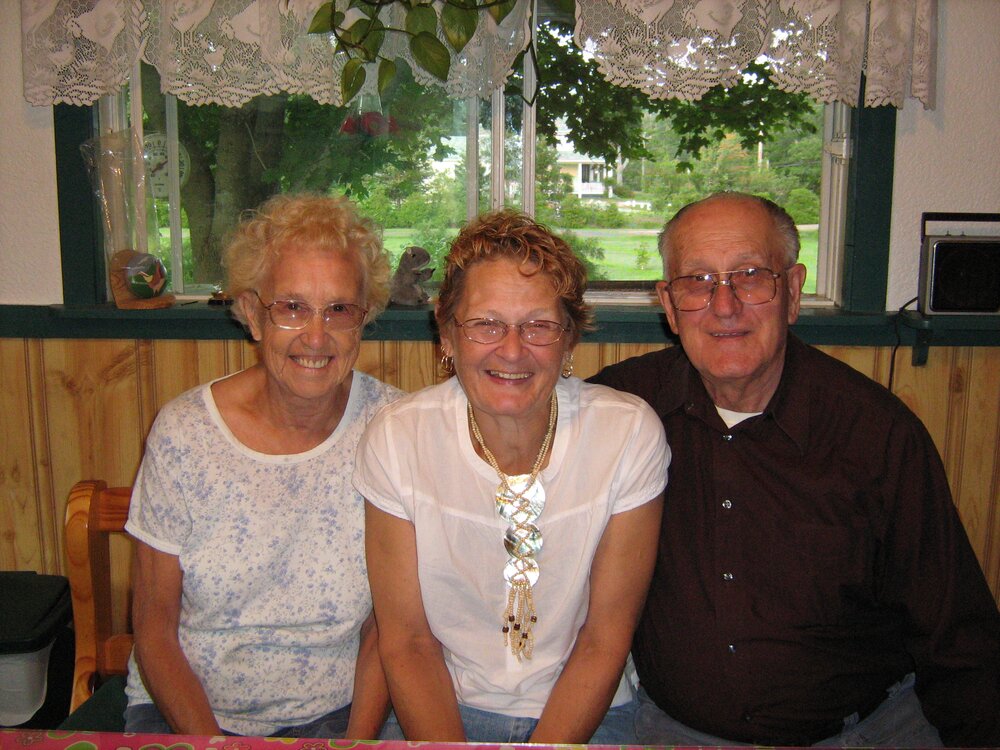 Obituary of Gertrude Mae Robinson
Please share a memory of Gertrude to include in a keepsake book for family and friends.
Robinson (Thibideau) Gertrude Mae "Trudy"
Age 91 from Round Hill passed away in the Valley Regional Hospital on Thursday, January 6, 2022.
Gertie was born July 20, 1930 in Lequille, NS. She was a daughter of the late Benjamin (Henry) and Hazel (Milner) Thibideau and was predeceased by her loving husband of 70 years, James, her son David, her younger brothers, Gordon Henry and Dean Kenneth and older sister Dorothy (Ransberry). She will be sadly missed by her devoted daughter Susan, who was her caregiver for the last year. Gertie also leaves behind a grandson, Will Barton of BC, sister-in-law Wilma (Morine) Thibideau of Smiths Cove, nieces Kellie (Michael) Francis of Digby, Debbie (Bob) Jacob of Woodstock, ON, Nancy Robinson of Woodstock, ON, Linda Newns of Nobel, ON, Donna (Doug) Northrup of Salisbury, NB, Dorelle Crispe of Georgetown, ON, and nephews Brian (Alix) Crispe of Burlington, ON, Greg (Marsha) Crispe of Seguin, ON and Kevin Robinson of Tillsonburg, ON. She also leaves behind numerous cousins and many friends.
Gertie married the love of her life March 10, 1948 in the little church in Lequille. They had an amazing life together, filled with fun, travelling and love. They made many wonderful friends everywhere they went. For everything they've seen and accomplished they were hand in hand together. Their's was truly a love story to be admired and remembered.
In her younger years Mom enjoyed school and did very well. She was a princess in the very first Natal Day pageant in 1946. Mom loved to dance and went to all the town dances where she ended up meeting my dad. After school she had a job at the drugstore in Annapolis Royal. They were going to send her to pharamacist school but she decided to marry my dad instead.
During the early years of their marriage they moved back & forth from NS to Ontario quite a few times. After my brother was born here in 1952 they returned to Brantford and spent the next 20 years in Ontario.
In 1958 they bought a house in the small village of Scotland, Ont. 13 miles from Brantford, where my dad worked as a bindery man for 20 years.
I came along by the way of adoption. Mom had always told me I was very special, that they had chosen me. Mom adored children and children loved her.
Growing up, mom babysat a lot of little ones. We lived in tobacco country and many people who worked in the fields would leave their children, of all ages with her. She made beds for them everywhere! In dresser drawers, in baskets, boxes!
Baby sitting, raising my brother and me and even fostering two children for a few years, my mom was a dynamo. She taught me how to cook, bake, sew and all the things I'd need later in life. I have many memories as a child, being beside her doing so many things. I loved when we attended church bazaar and teas together and when she took me on my first plane trip, assuring me the whole while we would be just fine!
After the child yearing and the babysitting years mom worked as a practical nurse at Parklane Nursing Home in Paris, Ont.
She enjoyed working wth the elderly and continued as a PN for the rest of her working life. In 1973 we moved to Calgary and mom worked at the Mayfair Nursing home for the 10 years they lived out west. Mom made some great friends everywhere she worked and maintained most of them after moving away.
In 1983 they sold their home out west and moved back to Nova Scotia to be near their parents as they were aging. They settled In Round Hill halfway between each of their parents. Mom loved being back home. She was always on hand to help her own mother, with shopping and appointments until she passed away in 1997. She also worked once again as a PN at the nursing home in Annapolis Royal for over 10 years, until a life threatening illness caused her to retire.
My dad's mother, Myrtle, moved in with them after losing her husband in 1996 & stayed until she passed away in 2004. Grama was a quilter and this is when mom learned to quilt. The next thing you knew mom & dad were making quilts together for the rest of their years together. Also 2004 is when I decided to move home as well. I had the same reason my parents had when they came back. I wanted to be closer to mom and dad as they got older.
In 2005 Mom entered a quilt in the Lawrencetown Exhibition and won 1st, 2nd and 3rd place ribbons in three categories. She never thought she was a great quilter but everyone else did and hopefully those ribbons convinced her. All of our relatives and closest friends have a quilt made by Gertie & Jim.
Mom had many hobbies and interests. In her younger years it was knitting and she would make lovely little sweaters, hats and booties for the children she cared for. She loved flowers and gardening and always had the most beautiful gardens. She also loved games, jigsaw and crossword puzzles and playing cards.
Growing up there were always raucous games of Peanuts (a 2 partner fast card game) or Dammit & Yahtzee taking place at the kitchn table. Mom & I would have so much fun playing 2-handed Peanuts together and we would get so rowdy my dad would have to leave the room! In Nova Scotia the cards turned to 45s and mom just loved playing and attending the local halls for card nights. She had such fun and met such wonderful groups of people. They even held a card night once a week at their home. Sadly when dad passed, card night at the house stopped and when Covid hit, mom stopped attending the community games as well.
When dad passed away in 2018 I became my mom & brothers go to person when anything went wrong. My brother looked after mom so well and did all the things that she wasn't able to. Then last Feb. when my brother suddenly passed away my mom and I were all we had. I became her total caregiver and was with her all the time. In April of last year when she fell and fractured her hip, the doctors told us, that her age, being 90 then, plus her COPD, she might not pull through. Well, they didn't know my mom like I or her close friends and remaining family knew her. My mom had almost died back in 1999 when she was in hospital for Pancreatitis. She was on life support & in a coma for 53 days and had also suffered a heart attack. At one point when they approached my dad about taking her off life support, he said no way in no uncertain terms! Thank God he had stood his ground because mom came around, got better and eventually came home!
So mom being mom, recuperated from her hip fracture and came home. She was able to celebrate her 91st birthday and we had more time to be together.
The first bad spell this fall when she went to Middleton and we found out she had pneumonia, they transferred her to Annapolis to pallative care, not expecting her to get better. But she did and she came home.
She was given a nickname from the doctors and nurses this last year. The 'cat lady', not because she had a bunch of cats but because she seemed to have so many lives.
But even my mom, as feisty as she was couldn't fight forever. COPD is a terrible disease and such a scary one to watch someone go through attacks of not being able to breathe. The only comfort I can take from this is my mom no longer has to struggle for a breath and she is in no more pain.
This last year with her has been a true blessing for which I will be forever thankful. It's also a two-edged sword because now, I am used to being with her, and miss her even more.
Mom was one of a kind, a true treasure that I am so lucky to have been chosen by this amazing woman and her husband. They, were my miracle.
Thank you to the emergency staff at Valley Regional Hospital as well as the doctors and nurses of the 3rd floor medical wing at Soldiers Memorial in Middleton and also to the staff at ACHC. A special thank you to the numerous ambulance and EMTs of Annapolis Valley.
Cremation has taken place under the care and direction of Kaulbach Family Funeral home, Bridgetown. A visitation date will be announced in the near future.
Donations in memory may be made to the Canadian Lung Association.
Share Your Memory of
Gertrude