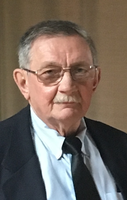 Terrance William "Terry" Rent
Rent, Terrance "Terry" William 71 of Bridgetown passed away November 26, 2019 in Valley Regional Hospital, Kentville. Born in Halifax he was a son of Marjorie (Cole) and the late Edward Rent. Terry worked for Nova Scotia Power Corp and Emera for 30 plus years retiring as a Supervisor. He was a former Annapolis County Councilor, a member of Annapolis County Ground Search and Rescue. He was a member of the Annapolis Liberal Association and the West Nova Liberal Association and was involved with the moving of St. Alphonsus Catholic Church to its new location. Terry was an avid hunter , fisherman and outdoorsman.
He is survived by his mother Marjorie, wife Nancy of Bridgetown sons: Brad (Tammy) of Crossfield, AB, Edward of Calgary; grandchildren: Tanner, Teagan, Kira and Hailey; brothers: Gary (Sharleen) of Fredericton, Michael of Bridgetown; sisters: Sharon (James) Ashley of Wiarton, ON, Carol (Roger) Walker , Betty (Blaine) Bent all of Beaconsfield, NS, Marilyn (Don) Kaulbach of Bridgetown, several nieces and nephews.
Visitation and prayers will be held 7-9 p.m. Sunday from the Kaulbach Family Funeral Home, Bridgetown. Funeral service will be held 11:00 a.m. Monday from St. Alphonsus Catholic Church with Father John MacPherson officiating. Interment will be in the church cemetery. In lieu of flowers donations may be sent to the Nova Scotia Heart & Stroke Foundation. On line condolences may be made at www.kaulbachfamilyfuneralhome.com