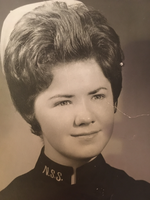 Anne 'Darlene' LeBlanc
Leblanc, Anne Darlene, known as Darlene, age 75, of Bridgetown, passed away peacefully Sunday evening, November 10th, 2019, at Soldiers Memorial Hospital. Born May 9th, 1944, she was raised in Glace Bay. Cape Breton, the daughter of the late Mary (MacQuarrie) and Benedict Furey. At the age of 18, she went to Kentville, NS to pursue a career as a Certified Nursing Assistant. She spent over 40 years as a CNA finishing her career at the Annapolis Community Health Centre where she was well known and admired.
Darlene was predeceased by her sister, Joan MacDonald (Furey) and brother, James Furey.
Darlene was wonderfully devoted to her husband of 48 years, Michael LeBlanc and two children, Krista Langley (Stephen), and Marianne Marshall (Jonny); sisters, Pam Furey Lomas (Dave), Noel MacDonald; brothers, Benedict Furey (Heather), Murdock Furey (Mary). She was a loving grandmother to her five grandchildren, Chelsea, Mykal, Liam, Ella and Ben; as well as an aunt to numerous nieces and nephews.
Darlene was a strong, determined and fiercely independent woman who left an impression on everyone she met, including the strangers she could strike up a conversation with at anyplace and anytime. We will miss her every day.
A visitation will be held 6-9pm Wednesday November 13 in the Kaulbach Family Funeral Home, Bridgetown. A celebration of life service will be held 11am Thursday November 14, 2019, in the St. Alphonsus Catholic Church, Bridgetown, with Father Keith Billard officiating. Family flowers only. In lieu donations in Darlene's memory may be made to the Misfit Manor Dog Rescue. Online condolences may be send to www.kaulbachfamilyfuneralhome.com