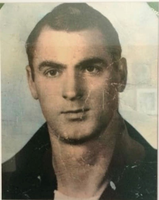 Ellsworth Frederick Hutchins
Sunday, November 3rd at 1:47 am, while at home, our precious Dad went home to be with the Lord and to be reunited with our mom who passed away in May. This month they would have been married 64 years and he has been lost without her. Dad was born October 9th, 1928 in Seabrook, Digby County, Nova Scotia to William and Annie Hutchins. He leaves behind his heartbroken children: Darlene (Earle) Aulenback, Gary (Lynn) Hutchins and Rhonda Hutchins. Grandchildren, Kelsey (Ryan Barrett) Edmonds, Jordan (Heather Deanna Mohamdee) Edmonds, Jeff (Angelica Cortes) Edmonds, Amanda (Tyler) Eastman, Brandon (Katelin Barrett) Aulenback. His precious great grandchildren, Noah, Charley and Ayla. His sisters Gwen Dwyer, Carol Carson and brother Rodney Hutchins. His sister's in-laws, June Hewey, Ruby Dewolfe and Julie Rafuse and many nieces and nephews.
Dad and his siblings had a difficult family life and were separated and placed in the welfare system when their parents separated. This was a defining moment for Dad and the effects would be felt throughout his life. Dad left his foster home as a very young teenager and started working and being responsible for himself from that moment on.
Over the years he has had many jobs including his first job at Tupper Warren's saw mill in Rossway. Dad also drove trucks, cleaned boilers on warships (at the end of the war), worked a year on Sable Island, picked apples, even stoked the boilers on boats sailing the Great Lakes.
Dad was very proud when he earned his captains papers and was able to run a variety of boats. He was hired to run a tugboat when the Bear River bridge was being built and again in Saint John. He was captain and part owner of the scallop dragger the Kelsey S, sole owner of a hand liner, Ben and Sons in addition to fishing for others.
One of his proudest moments was joining the army (The Black Watch) and serving in the Korean War.
His most frightening moment was walking through a mine field at night! The Korean War was not recognized for many years so the day he received his medals validated his service.
After the War he met my mom in Digby and his life changed forever. In our mom he found the love and stability he was always looking for but never thought he would find. Dad lavished his love on all of us and as each year went by, what was in his heart was seen by all those closest to him!
As dad got older he loved to tell everyone who would listen about his many adventures. We especially loved that at 15/16 he was riding wild ponies on the sand dunes of Sable Island and how each day the dunes could reveal a ship wreck or other treasures. How he couldn't get the ponies to eat his first batch of bread to spilling beans on the floor, scrapping them up and serving them. We did a lot of laughing when we heard the men thought they were the best beans ever. Dad would laugh just as much as we did.
Dad loved the sea and being out on the Bay of Fundy, the Atlantic Ocean and the Grand Banks. The stories of waves crashing over the top of boats, seeing sharks, fishing with broken bones and falling off of wharves (more than once) were just normal occurrences to him. When the dolphins swam beside the boat it always gave him a good feeling.
Last November all of our lives changed and it's been the hardest year of our lives. Dad was in Yarmouth hospital and Digby hospital multiple times with major breathing issues. We thought were going to lose him a couple of times and it came very close. It was all too much for mom and she passed away in the Annapolis hospital in May. That same day dad went by ambulance to Digby Hospital, it's here we had to tell him that she was gone.
In August he had his left leg amputated above the knee and it had just finally healed this last week or so. Two weeks ago he stopped breathing for a few moments at a time but bounced back. His life ended quickly and quietly in the night with family by his side. We thank the Lord for every extra day we had with him, we were blessed! Our dad was and could be a stubborn man but after years of watching mom and seeing the peace she had, my dad accepted Jesus as his Saviour! The year's mom and dad had together from that moment on were truly precious. The Lord brought them closer than ever before. We are confident he is now with her in heaven! We will miss him and mom more than we can ever say, but couldn't wish them back.
In the last weeks of his life he had some ministering angels taking care of him and he called them, "his girls". Thanking Stephanie, Dolly, Ethel and Belinda for the wonderful care and companion ship they provided!
We are thankful to the DVA, we could not have kept dad in his own home without them. We would also like to thank our Aunt June for the many hours she spent with our family this past year helping where ever she was needed. We love you!
Dad's service will be held on Wednesday, November 13th, at 1pm at Greenland Bible Chapel, 229 Greenland Rd, Greenland, Annapolis Co. N.S. Family flowers only. Donations can be made to a charity of your choice