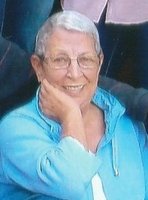 Beatrice Louise Saulnier
Beatrice Louise (Becky) Saulnier nee McGrath, age 81 of Lequille, Annapolis County, passed away peacefully on April 3, 2018 in Annapolis Royal.
Becky was born at home in Port Wade to Lina and Capt. Owen McGrath on November 13, 1936. She was the youngest of seven siblings: Dana, (Delia), Rita (Frank Takacs), Garnet, Anna (Herb Amero) and survived by Shirley (James Sanford), Berna (Norma). Becky's daughters, Tracy (Mark Terrio) and Andrea (Rodney Phillips) reside locally. She has four granddaughters, Candice (Evan Dearman), Brandy Edwards, Samantha Turnbull and Neiley Terrio, and a very special great grand, Taylor Danielle Dearman.
From a one-room schoolhouse she would graduate from Annapolis Royal Academy and later complete her Stenographers Diploma at St. Patricks Business College, Digby in 1955. Becky ventured to Halifax to work returning home a year later to begin the next chapter, with her husband, Ernest Reginald Saulnier Jr., marrying on November 17, 1956 at Port Wade. Junie lives in the family home, remains active with the Legion and enjoys his community.
Becky's career took a familiar trend of public service and she spoke passionately about her work with many fond memories. As a steno, Becky's skill at shorthand was an asset during her years with Family Court, Mental Health Services, and at the Annapolis Hospital.
In 1973 she started with the RCMP, Bridgetown Detachment, a career that she came to value and treasure; an organization she was proud to associate with. They were her second family, her boys, and always-protective while at the same time keeping them in check! Through the years her career would also influence her family offering new experiences and insights but mostly meaningful friendships that are enjoyed today. She retired in 1997.
Becky was a strong, sensitive woman and the foundation for all her family, bringing us together for weekend dinners, family holidays and events. Family was her heart, and without we all fall away. She made it her place to keep her family close, wanting the same for her daughters and her granddaughters. Always a supportive wife, parent, grandparent, sister, and aunt, she never thought of herself only concerned for everyone's happiness.
Becky enjoyed a good time, loved to laugh, pull the occasional prank and have fun! She had many interests but it was not complete without her friends, her gal pals whom you were all special!
From dancing every Saturday night to live bands in cocktail dresses and high heels, weekends in Port Wade, volunteering for meals on wheels and the food bank, playing cards, scrabble, bowling, attending the grandkids events, a glass of wine, coffee at the Nook, getting lost just about anywhere, clam bakes and spoiling us with the best seafood chowders, Becky loved life and everyone who was a part of it.
We loved her dearly and she will be missed but cherished in our memories forever.
The family wish to extend their gratitude to Dr. K. Buchholz and the staff at the Annapolis Royal Nursing Home for their caring and attentive support provided to our Mother.
At her request, a private graveside dedication will be held on Saturday, May 5th, 2018 at the Port Wade Cemetery at 11 o'clock A.M.
Donations in memory may be made to the Annapolis Community Health Center, its Foundation or Auxiliary. On line condolences may be sent to www.kaulbachfamilyfuneralhome.com