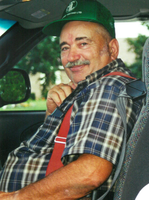 Lawrence Alfred "Bobby" Hebb
LAWRENCE ALFRED HEBB, "BOBBY", of Upper Granville, passed away on March 22, 2018 at the age of 83. Born February 11, 1935 to John and Lottie (Bent),Upper Granville who predeceased him. Bobby was a simple, no fuss, to-the-point kind of man. He valued honesty, hard work, those who kept their word and taking care of what you have.
He started working at a young age and only stopped when his legs wouldn't let him any longer. As a young boy, he worked on the family and nearby farms and peddled meat with his father. He then drove dump trucks, heavy equipment and snowplows for many years. Thanks to his neighbor in the fire wood business, he continued to work even longer – doing what he could using his 4-wheeler & cart – cleaning up the wood blocks and cutting kindling.
Bobby enjoyed showing & pulling oxen, raising his Belgian colts, going for drives, listening to bluegrass & fiddle music. He loved his family and dogs; raising cattle and pigs, telling stories of growing up and giving advice. He has left a huge hole in our hearts and will be missed every moment of our days.
Bobby is survived by his loving wife of nearly 65 years Hazel "Marie", nee Halliday. Daughter Rose (Blain) Durling, Bridgetown, Rose's children Robert (Bonnie) and Ryan. Son, John (Patsy) South Ohio, John's children Shelia, Andrew and Albert. Daughter Marion, Yarmouth and daughter Karen (Laurie) Hardacker, Weston. Bobby was blessed with several great grandchildren and two great great grandchildren, as well as several nieces and nephews. Bobby also leaves behind several siblings and was predeceased by two. Also predeceased by step mother, Edith Brooks.
Keeping with the wishes of Bobby, no services will take place. Cremation has taken place under the care and direction of Kaulbach Family Funeral Home, Bridgetown. The family is requesting no visitation. In lieu of flowers donations may be made to any local exhibition where ox pulls are held, or animal charity of choice, in Bobby's memory. On line condolences may be made at www.kaulbachfamilyfuneralhome.com