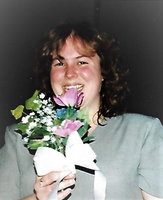 Erica Dawn Pettipas
Pettipas, Erica Dawn – It is with great sadness, the family announces the sudden passing of Erica at the age of 43 on March 19, 2018. Erica was born October 27, 1974 to Robert J & Sandra (Keen) Pettipas of Deep Brook.
Erica loved spending time with her family and friends and looked forward to her shopping excursions to Greenwood. She could often be seen working away at a puzzle or search-a-word. Erica had been employed by Carleton Road Industries for many years and cherished the many friendships she made along the way.
Besides her parents, Erica is survived by sister, Michelle (Kevin) Wight of Nicholsville; brother, Robert L (Cynthia) Pettipas of Deep Brook; grandmother, Dorothy (Wayne) Prime of Digby; niece, Keshia (Jacob) Hawkins ; nephew, Dylan Pettipas; great-niece, Allison; aunt, Priscilla (Frank) MacInnis; and many cousins. She was predeceased by grandparents, John & Marie Pettipas; grandfather, Fred Keen; aunt, Faye Wagner and her beloved cats Lucky and Hattie.
Cremation has taken place under the care and direction of Kaulbach Family Funeral Home, Annapolis Royal. No visitation at the family's request. A celebration of life will be held at the Middleton Baptist Church, 111 Commercial Street on Wednesday, March 28, 2018 at 2:00 pm, with Pastor Deborah Wetmore officiating. Burial will be at a later date.
In lieu of flowers, donations may be made to Community Support Services c/o The Meadows ARC, Bridgetown, Carleton Road Industries, Lawrencetown or a charity of one's choice. On line condolences may be made by visiting www.kaulbachfamilyfuneralhome.com