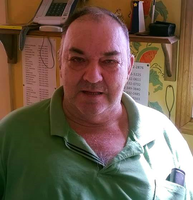 Bruce Avard Morrison
BRUCE AVARD MORRISON passed away at his home in Karsdale on March 16th, 2018 from renal failure. Born October 6th, 1951 to Avard and Marion (Thorne) Morrison of Karsdale who predeceased him. A man of land and sea, Bruce fell in love with the water at the age of 13 when he left school to be upon it. There he stayed for 35 years, first as a scallop hand, then as a captain. He harvested clams and wood until 2015 when an injury forced him to slow down.
Known for his need for speed, Bruce was an A class racer in snowmobile and a rogue in the streets. The highway - and life - always held adventure for him. His loves included camping and hunting out of his camp on the North Mountain where he felled many a themometer and spent hours with his greatest love: his family. A gentle giant, Bruce was a family man above all. He leaves behind his wife Gail (Doty), son Leander (Michelle) of Digby and daughter Maria (Josh) of Bridgetown; brothers Lawrence, David (Daisy), and Alan (Suzette) of Karsdale, and sister Myra (Wayne) of Hillsburn. He leaves behind two grandchildren Colten and Avery, along with many nieces and nephews.
Cremation has taken place under the care and direction of Kaulbach Family Funeral Home, Annapolis Royal. The funeral service shall be held at the Port Wade United Baptist Church on Wednesday, March 21st at 11am, with Rev. Dr. Randy Legassie officiating. Interment will follow in Port Wade Cemetery. Followed by an open house at 2549 Granville Rd. in Karsdale. The family is requesting no visitation. In lieu of flowers donations may be made to the Annapolis Royal Fire Department in Bruce's memory. On line condolences may be made at www.kaulbachfamilyfuneralhome.com