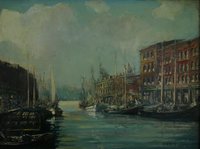 Vinton Arnold Lloyd
Vinton Arnold Lloyd lived his life with unshakable tenacity. Born May 26, 1941 in his family home to the late Hazel and Vinton Lloyd Sr. Vinton was the youngest of four children: Robert Lewis (deceased), Elizabeth Cahill, and Ronald Lloyd.
His childhood in Bournemouth, on the banks of the English Channel, his travels across the continent, followed by a love of the sea led this man to become a Master Mariner and spend years sailing the open waters. The re-creation of the Voyage of Saint Brennon and two years as captain of The Harry W. Adams, with nary a soul lost, were two defining moments of his large life.
A black belt in Judo, inventor of Enviroblock, proprietor of Gypsy Spreadums, antiques curator, tux clad shill in a Casino in Soho London, creator of International Star Registry...just a few of the steps along this remarkable journey.
Adventures under his belt, Vinton returned to the beloved Lloyd family home in Bridgetown NS. He set up office and created an international business, Automotive Innovations Inc.
While building a company he also spent hours painting; his love affair with the sea never ebbed. A prolific painter, he put oil to canvas creating many accomplished artworks. The most notable among them, his large scale nautical pieces.
In all that Vinton accomplished nothing compared to the love for his children, Charlotte and Justin, and of all titles held his greatest joy was Papa to his cherished granddaughter Eva. His last 10 years were enjoyed with his darling, Cindy, who Vinton described as "the most talented, incredible, and adorable person". Cremation has taken place under the care and direction of the Kaulbach Family Funeral Home, Bridgetown. On line condolences may be sent to www.kaulbachfamilyfuneralhome.com