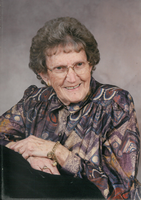 Annie Marguerite Gates
Annie M. Gates of Bear River passed away at the age of 93 on January 18, 2018 at Mountain Lea Lodge with family comforting her in her final days. Our mother's many battles have ended and now she can begin another journey. She has been a fighter for as long as any of her four children can recall. Mum had many friends from all walks of life as was evident from our daily encounters with individuals who knew her. "How is Annie" was always the question.
Mum was a devoted member of the Bear River United Baptist Church. She loved her church and the friendships that evolved. Through the church mum was involved in the ladies sewing circle and looked forward to these gatherings. Mum was an excellent badminton player and often competed in doubles tournaments with her good friend, Maddie Yorke. She loved outdoor activities and was not one to back down from any challenge. This was particularly evident when she and her dearest friend, Shirley Woolaver were seen putting tar on the cottage roof at 80 plus years of age.
She very much looked forward to the Tuesday gatherings with friends at the New Horizons. Here she played scrabble, cards and transferred information while others quilted. And naturally there was the afternoon tea and snack. Mum cherished her cottage and the many friendships that came with that part of her life. Mum was a wonderful cook. Her cranberry puddings at Christmas time were superb, the traditional seven layer cakes on our birthdays were treasured and her coconut pies were absolutely outstanding. She was truly a great mother and her passing will leave a terrible void in our lives.
Annie was predeceased by husband, Thomas; parents, Harvey (Nellie) Chisholm; infant sister, Mary; Brother, Chipman; Father in law, Starratt Gates; Mother in law, Hilda (Slack) Gates; Brothers in law, Lewis and Phillip Gates; Sister in law, Irene (Harry Banks). Annie is survived by sister, Francis (Crawford Purdy); sons, Lynn (Catherine), Richard, Larry and daughter, Cathy (David Gordon); Granddaughters, Jennifer (Gerardo Martinez), Allison (Scott Fuller); Grandsons, Christopher and Sean Gordon; Great Grandchildren, Devon and Emmett Martinez, Penelope and Georgia Fuller. Also surviving are Brother in Law, Harry (Pete) Banks; Sisters in law, Elizabeth Chisholm, Phyllis Gates; Niece, Lorna Bird; Nephews, Douglas Purdy, George, Edwin and John Chisholm, Robert and Murray Gates.
A special thank you to the nurses and staff and the palliative care unit. You will always have a special place in our hearts.
Online condolences may be made at www.kaulbachfamilyfuneralhome.com
**FUNERAL SERVICE WILL BE HELD 2PM SATURDAY JUNE 16, 2018 IN THE BEAR RIVER BAPTIST CHURCH.