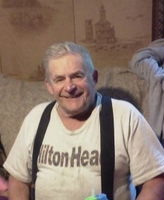 Max ' Ray' Ritchie
Max Ray Ritchie, age 75, passed away suddenly at Digby General Hospital on Friday, December 22, 2017.
Born on February 28, 1942, he was the son of the late Max R. and Anna M. (Gilliatt) Ritchie. He lived his entire life in Lequille, working for 22 years as a mechanic in various garages in Annapolis Royal and then as a bus mechanic for the Annapolis School Board and, after amalgamation, the Annapolis Valley Regional School Board until his retirement at age 65. In his younger years, he enjoyed fishing and hunting with friends. After retirement, he enjoyed spending time with family, especially his two grandchildren.
He is survived by his wife of 45 years. Grace (Woodworth) son, Gordon, at home, and daughter Jennifer Ritchie (Ryan Taylor), grandchildren Max and Julianna Taylor, of Lequille; sister Holly (Alan) Buckler, Lequille and nephews Carson, Koby and Nicholas Buckler.
Per his request, cremation has taken place. A funeral service will be held at Kaulbach Family Funeral Home, Annapolis Royal at 2:00 P.M. on Friday, December 29. 2017, officiated by Rev. William Woodworth. There will be no visitation; family flowers only; donations to Canadian Diabetes Association or charity of choice.
Online condolences may be made at www.kaulbachfamilyfuneralhome.com